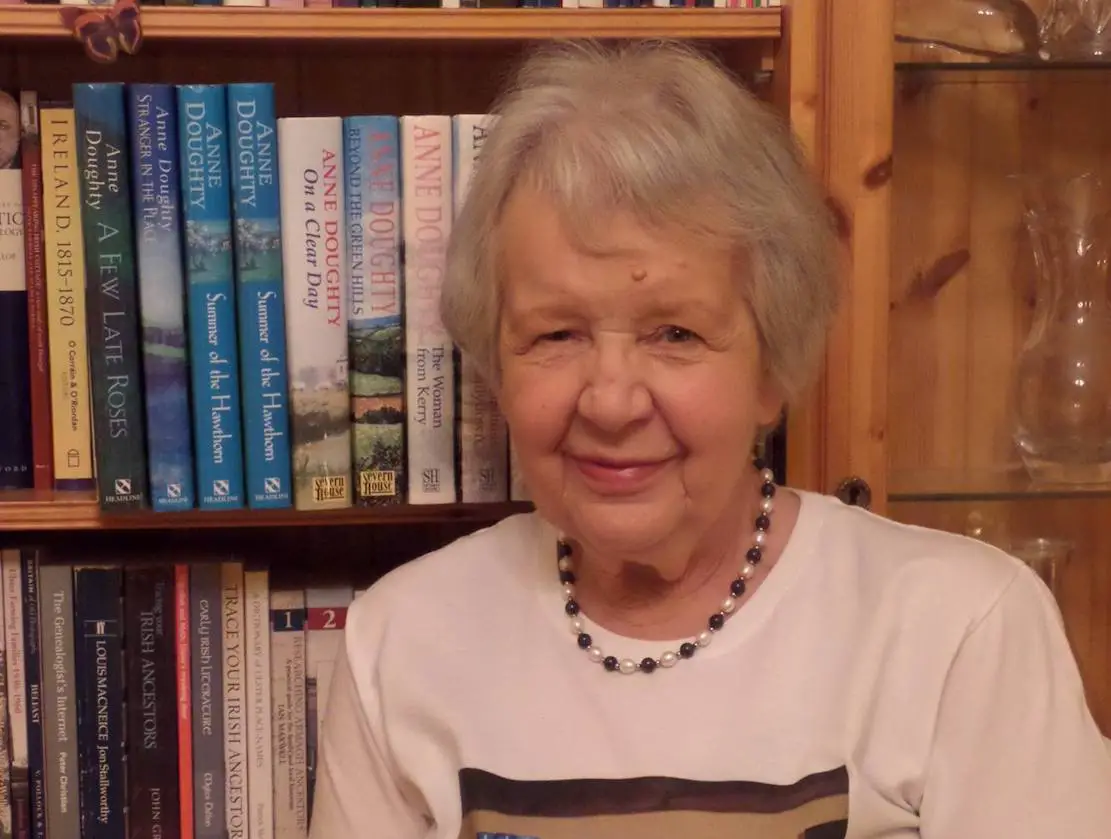 Armagh-born author Anne Doughty has passed away at the age of 79.
The author of 10 critically-acclaimed books, she proudly set much of her work, historical and romantic fiction, around her native countryside.
Anne – who had an army of fans – passed away on Sunday.
She returned to the city many times over the years and cherished numerous friendships.
But Anne suffered from heart problems and had to undergo open heart surgery earlier this year.
However, she had been looking forward to a new chapter in her writing career and a new door opening…
Having been born in Armagh, Anne attended the Armstrong Primary School in her formative years.
She had moved to England in 1970 and had lived there before returning to settle in Belfast – with her husband Peter – in 1988.
The couple had been married for 44 years before he sadly passed away, in her arms, five years ago.
It was he who had encouraged Anne to pursue her dream of writing in the 1970s.
Anne had worked as a teacher.
But it took more than 20 years before she would see her first published novel.
'A Few Late Roses' came in 1997 and was long-listed for the prestigious Irish Times' Literature Prize.
She wrote a number of stand-alone novels.
But her success came through a series which centred around the fortunes of the Hamilton family, beginning with 'On a Clear Day' – which opens shortly after the close of the Second World War – and follows on with titles such as 'The Woman from Kerry' and 'The Hamiltons of Ballydown'.
A short time before celebrating her 79th birthday in August, Anne had signed a deal with Harper Collins which would have seen her books being marketed on a global scale with a whole new audience lined up.
She was looking forward to that new outlet for her work and the publication of 'The Girl from Galloway', which is set in Donegal.
Anne always said she loathed sectarianism and wanted to portray Northern Ireland in a different light.
Speaking to the Belfast Telegraph earlier this year, she said: "I really am not interested in the money. I only ever wanted to get my stories out there and the message that there is more to our history than the Troubles.
"For me my writing is about presenting Irish history in a way that people can make up their own minds about it.
"Up until now my books were only sold in the UK and Ireland so I am happy to think my stories set in times before the Troubles will now be getting the worldwide audience I always hoped for.
"To me we are all the same – we are all vulnerable and we are all going to die so why don't we just get on with it."
A Service of Thanksgiving for Anne's life will take place this Friday, December 21, in Roselawn Crematorium at 2.30pm.
Sign Up To Our Newsletter