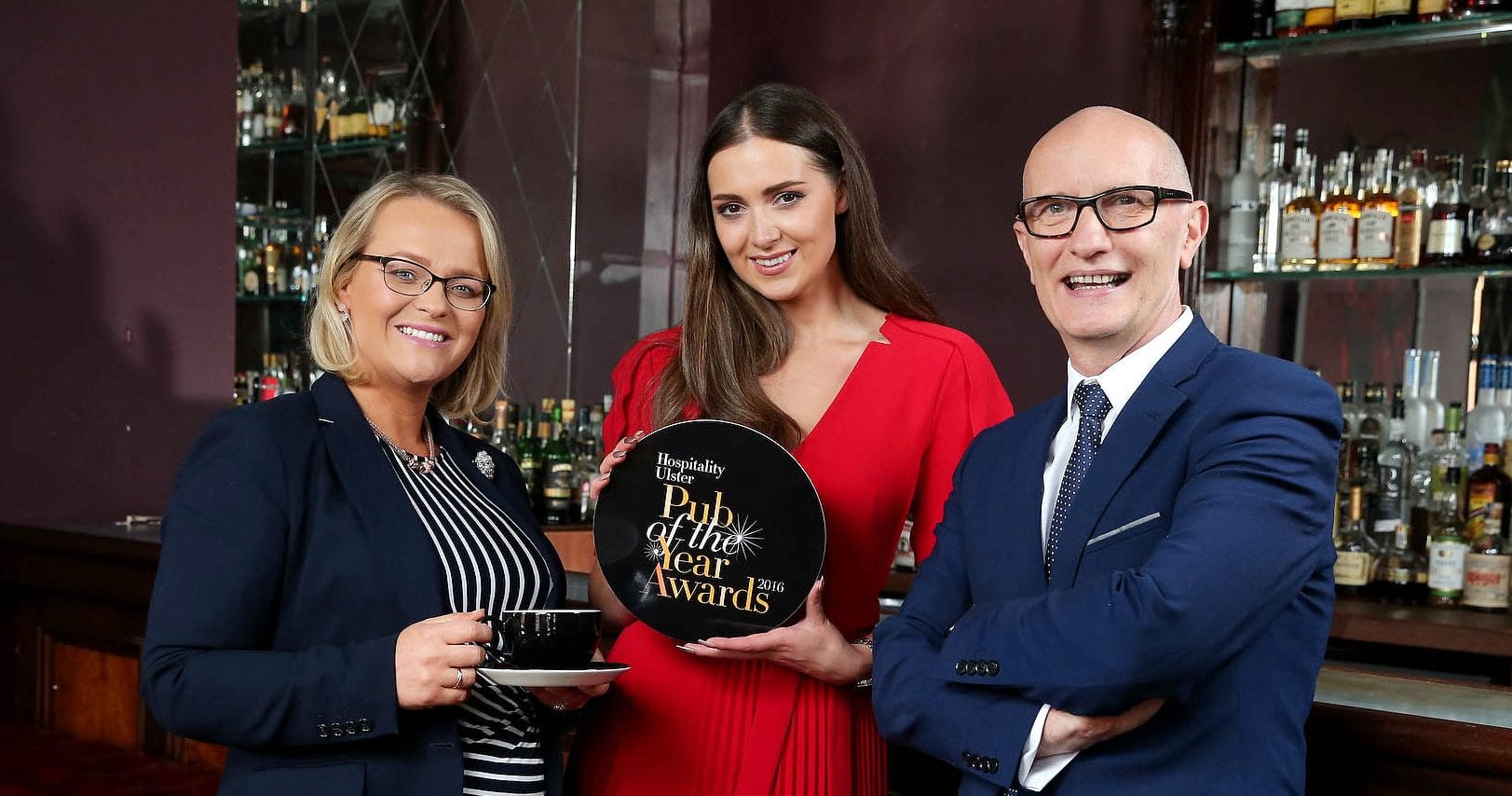 An Armagh bar has been shortlisted in the prestigious 2016 Pub of the Year Awards by Ulster Hospitality.
The Hole in the Wall bar in McCrum's Court in Armagh city centre is among five pubs vying for the top prize in the Urban category on November 16.
It will be competing against the Front Page Bar, Ballymena; Kiwi's Brew Bar, Portrush; Shenanigans Venue, Portstewart and The Taphouse, Enniskillen.
This year's Awards will be the mostly hotly contested to date.
Following a record number of entries from pubs, hotels and restaurants, a total of 46 shortlisted premises and individuals from right across Northern Ireland will now go head to head to be named the toast of the trade at the top industry Awards next month.
Also in the running for Rural Pub of the year is Lurgan's Corner House Bar. It is also hoping to scope the award for Commitment to Local Food (Pub) in partnership with Food NI/Taste of Ulster.
Armagh City Hotel is competing to be award Northern Ireland's top hotel bar (1-3*).
Winners of the 13 Awards will be revealed at a special gala awards night hosted by U105 presenter, Frank Mitchell, at the Ramada Plaza on Wednesday 16th November 2016.
Below are a full list of nominations:
Pub of the Year (Urban)
Front Page Bar, Ballymena, Co. Antrim
Kiwi's Brew Bar, Portrush, Co. Antrim
Shenanigans Venue, Portstewart, Co. Derry~Londonderry
The Hole in the Wall Bar, Armagh, Co. Armagh
The Taphouse, Enniskillen, Co. Fermanagh
Pub of the Year (Rural)
Matties Meeting House, Cairncastle, Larne, Co. Antrim
The Corner House Bar, Lurgan, Co. Armagh
The Lobster Pot Bar/Restaurant, Strangford, Co. Down
The Riverside Bar, Garrison, Co. Fermanagh
The Speckled Hen, Lisburn, Co. Antrim
Pub of the Year (City)
Ryan's Bar and Restaurant, Belfast, Co. Antrim
The National & Sixty6, Belfast, Co. Antrim
The Perch, Belfast, Co. Antrim
The River Inn, Shipquay St, Derry~Londonderry
White's Tavern, Belfast, Co. Antrim
Hotel Bar of the Year 1*-3*
Adair Arms Hotel, Ballymena, Co. Antrim
Armagh City Hotel, Armagh, Co. Armagh
Dunsilly Hotel, Antrim, Co. Antrim
Ivanhoe Inn & Hotel, Carryduff, Co. Down
Hotel Bar of the Year 4*-5*
Canal Court Hotel & Spa, Newry, Co. Down
Galgorm Resort & Spa, Ballymena, Co. Antrim
Hastings Everglades Hotel, Derry~Londonderry
Malmaison, Belfast, Co. Antrim
Commitment to the Community
Bushmills Inn Hotel, Bushmills, Co. Antrim
Dunsilly Hotel, Antrim, Co. Antrim
Front Page Bar, Ballymena, Co. Antrim
The Hatfield House, Belfast, Co. Antrim
The Hillside, Hillsborough, Co. Down
Commitment to Local Food (Restaurant) in partnership with Food NI/Taste of Ulster
Native by Yellow Door, MAC, Belfast, Co. Antrim
Ocho Tapas Bistro, Portrush, Co. Antrim
Pier 59, Strand Rd, Derry, Derry~Londonderry
The Hillside, Hillsborough, Co. Down
The Yellow Heifer, Camlough, Co. Down
Commitment to Local Food (Pub) in partnership with Food NI/Taste of Ulster
Friel's Bar and Restaurant, Swatragh, Maghera, Co.  Derry~Londonderry
The Corner House Bar, Lurgan, Co. Armagh
The Morning Star, Belfast, Co. Antrim
The Parlour Bar, Newtownards, Co. Down
The Taphouse, Enniskillen, Co. Fermanagh
Commitment to Local Food (Hotel) in partnership with Food NI/Taste of Ulster
Bushmills Inn Hotel, Bushmills, Co. Antrim
Canal Court Hotel & Spa, Newry, Co. Down
Dunsilly Hotel, Antrim, Co. Antrim
Slieve Donard Resort & Spa, Newcastle, Co. Down
Food and Beverage Manger of the Year
Anna Marie Mc Ferran, The Old Thatch Inn, Magherafelt, Co. Derry~Londonderry
Breandán Kerr, Ivanhoe Inn and Hotel, Carryduff, Co. Down
Chris Bell, Shenanigans Venue, Portstewart, Co. Derry~Londonderry
Morgan Watson, Horatio Todd's, Belfast, Co. Antrim
Barperson of the Year (in association with Sunday Life)
Feargal Shannon, Crowes Nest, Enniskillen, Co. Fermanagh
Melony Connor, Fitzwilliam Hotel, Belfast, Co. Antrim
Paul Rocks, Aether & Echo, Belfast, Co. Antrim
Sarah Hamilton Front Page Bar, Ballymena, Co. Antrim
Sinead Keenan  Dan's Bar & Off Sales (The Orient Bar), Belfast, Co. Antrim
Tim Mcllreavy, Kiwi's Brew Bar, Portrush, Co. Antrim
Hospitality Ulster Rising Star (in partnership with Ulster University)
To be announced on the night
Industry Legend (in partnership with Hospitality Review NI)
To be announced on the night
Sign Up To Our Newsletter