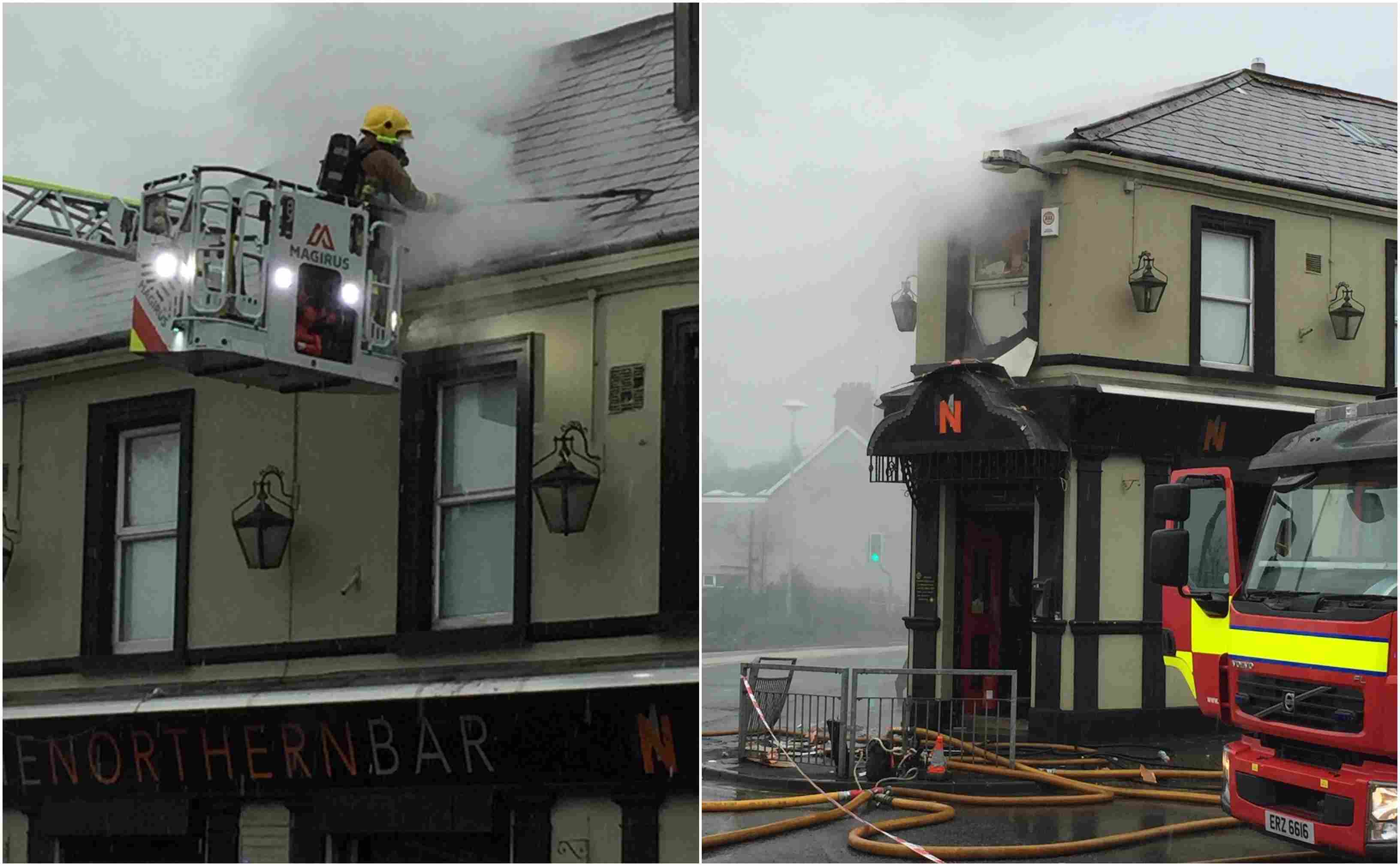 An Armagh business owner has spoken of his utter devastation after his bar was gutted in an early morning fire.
The Northern Bar on Railway Street went up in flames around 7am.
Approximately 30 firefighters spent much of the day tackling the blaze, with the incident still being described as "ongoing" late into the afternoon.
Mickey Hughes, who runs the popular city pub, told Armagh I of his sense of complete despair when he arrived at the scene first thing this morning.
"That's my business sunk," he said. "Three years and for what?"
Mr Hughes said he received a phone call from his brother around 7.50am, telling him the bar was on fire.
He raced over to see smoke billowing from the two-storey building.
"It's the upstairs part of the building mainly; the downstairs is pretty bad but the majority of the fire is on the upper floor," he explained.
"I'll not be allowed into it for a couple of days but it doesn't look good – it looks like my business is gone."
Lost for words and emotional, Mr Hughes, said: "What on earth do you do? It's a complete mess, everything is destroyed. I really don't know what to say.
"To see something like this is horrendous, absolutely horrendous, and for it to go up like that so quickly is heartbreaking.
"My business is sunk; three years I have put so much time, effort and money into and someone goes and does this! I really don't know what to do."
Despite his devastation, Mr Hughes was quick to commend the firefighters for their "brilliant" work in trying to tame the flames, while keeping him informed as much as possible.
"The firefighters are doing a brilliant job. They are trying to salvage what they can but it's an absolute mess."
Those sentiments were echoed by Armagh's Alliance candidate Jackie Coade, who was on the scene earlier this morning.
"What the firefighters have done there is nothing short of incredible," she told Armagh I.
"It's such an intense and difficult job, but to see them try and save a business and a property like that, is something else.
"One firefighter even attempted to break an upstairs window in order to gain access, with the flames just inches away – their bravery really knows no bounds."
She added: "But my heart goes out to the owners of this business and his family for it must be heartbreaking.
"And of course for many local people in Armagh, this will be devastating news. For me personally, it was a bar I spent many years in, and always loved. Such an iconic part of Armagh.
"I hope this business and building can be salvaged. And again, my heart goes out to the family who own it."
A Northern Ireland Fire & Rescue Service (NIFRS) spokesperson said:  "The fire at the Northern Bar, Railway Street, Armagh has now been dealt with.
"Over 30 firefighters were involved in bringing the well-developed blaze under control.
"Four fire appliances from Armagh, Keady, Portadown and Lisburn Fire Stations attended the incident along with the Command Support Unit from Lisburn Fire Station.
"Integral to firefighting operations was the new turntable ladder appliance, based at Portadown Fire Station, which also attended the incident. This enabled firefighters to attack the fire from a height to quickly bring it under control.
"The call was received at 7.55am this morning and it was initially thought that there were people trapped within the premises.
"Firefighters wearing breathing apparatus quickly carried out a search of the building to confirm that no one was inside.
"The complex layout of the building, combined with floors that had been compromised due to the intensity of the fire, added significant challenges for firefighting operations.
"Firefighters worked hard to contain the fire and prevented it from spreading to adjacent buildings.
"The cause of the fire is under investigation.  The incident was dealt with at 3.54pm."
Police have now confirmed that it was being investigated as a suspected arson.
Inspector Gary Moore said a report was received at around 8am this morning of smoke coming from the Northern Bar.
He added: "NIFRS personnel attended and extinguished the fire whilst police maintained a cordon in the area.
"Following an inspection of the premises we believe that entry had been gained to the bar sometime in the early hours of this morning and the bar then ransacked and set alight.
"We are also investigating an incident at Mullacreevie Park, where a white Audi A6 car was set alight shortly before 5am this morning.
"We are currently working to establish if both incidents are linked.
"Our inquiries are at an early stage and I would appeal to anyone who noticed any suspicious activity in the Railway Street area, or at Mullacreevie Park, to contact officers in Armagh on 101 quoting reference number 182 04/03/19.
"Alternatively, information can also be provided to the independent charity Crimestoppers on 0800 555 111 which is 100% anonymous and gives people the power to speak up and stop crime."
Sign Up To Our Newsletter