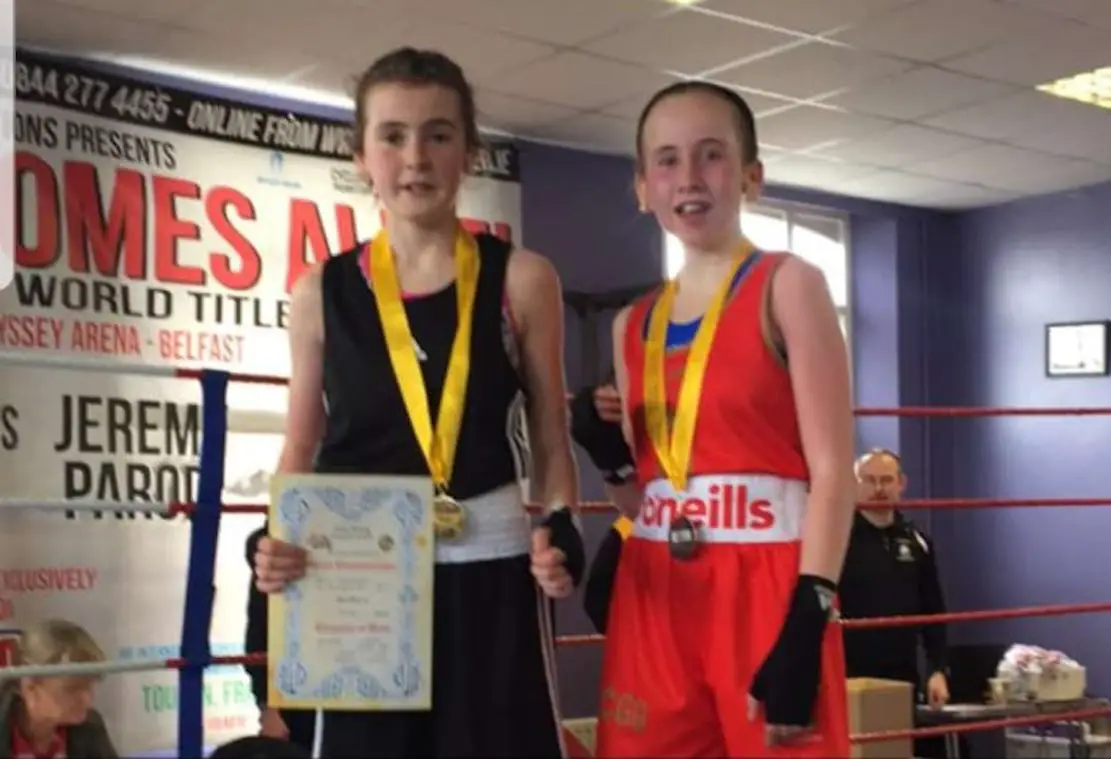 Armagh may have a new sporting hero on their hands, but don't let her size fool you, for this 12-year-old can certainly pack a punch.
The city's Amateur Boxing Club celebrated its first Ulster title win on Sunday when Aoife Duggan (pictured left) claimed a unanimous victory at the open championship girl 2 level.
This is only the start for the Armagh girl who will be heading to Dublin on Saturday where the National stadium beckons, as she fights in the semi-final of the All-Irelands.
She may still only be a pre-teen but Aoife has been working towards this dream for years.
The youngster began boxing at the tender age of seven and is proof that the apple does not fall from the tree, with her mother, Charlene Creaney, a former European kickboxing champion.
Speaking to Armagh I following Sunday's bout, coach Mark Loughry explained: "She boxed a girl, Mia Taylor; she gave her a standing count in the first round and won every round.
"She won unanimous and absolutely fought her heart out for that win, she completely overpowered the girl."
Commenting on what this meant for the club, he said: "She has done the club proud because that is our first Ulster final and it's the first time we are getting to Dublin.
"She has made history for the club".
This has not been easy for the young Armagh girl who has had to work tirelessly to get where she is.
Mark continued: "She has put in a lot of effort, she would be out running the Mall with me in the morning and then she's in the club in the evening.
"It's a big commitment to watch her diet to make sure she makes the weight; she had to maintain the 37 kilos weight limit for mid-Ulster Ulster and now she will get weighed in again in Dublin".
But it is not just physically which Aoife has had to prepare for her boxing, but mentally, it's a journey in itself.
"It is the toughest sport in the world; a lot of people will lose their head as soon as they step in the ring.
"We have had to prepare Aoife to build her confidence, gain her support," Mark added.
"It's not like football as your all on your own in there; I might be able to shout at her from the ringside, or talk to her between rounds, but it is ultimately up to her.
"It really is tough, especially for someone so young".
Mark says that boxing has become really popular with younger girls in Armagh, with a few more coming through the junior classes of the club.
And he's hoping Aoife can act as a role model for more local girls to pick up the sport.
Aoife, along with the coaches, will travel to Dublin where she will be fighting in the semi-final on Saturday morning in the National Stadium.
"We take one fight at a time, we never look too far ahead," Mark said.
He adds that this is only the start for the Armagh club who have a lot of promising fighters moving through the ranks.
Sign Up To Our Newsletter