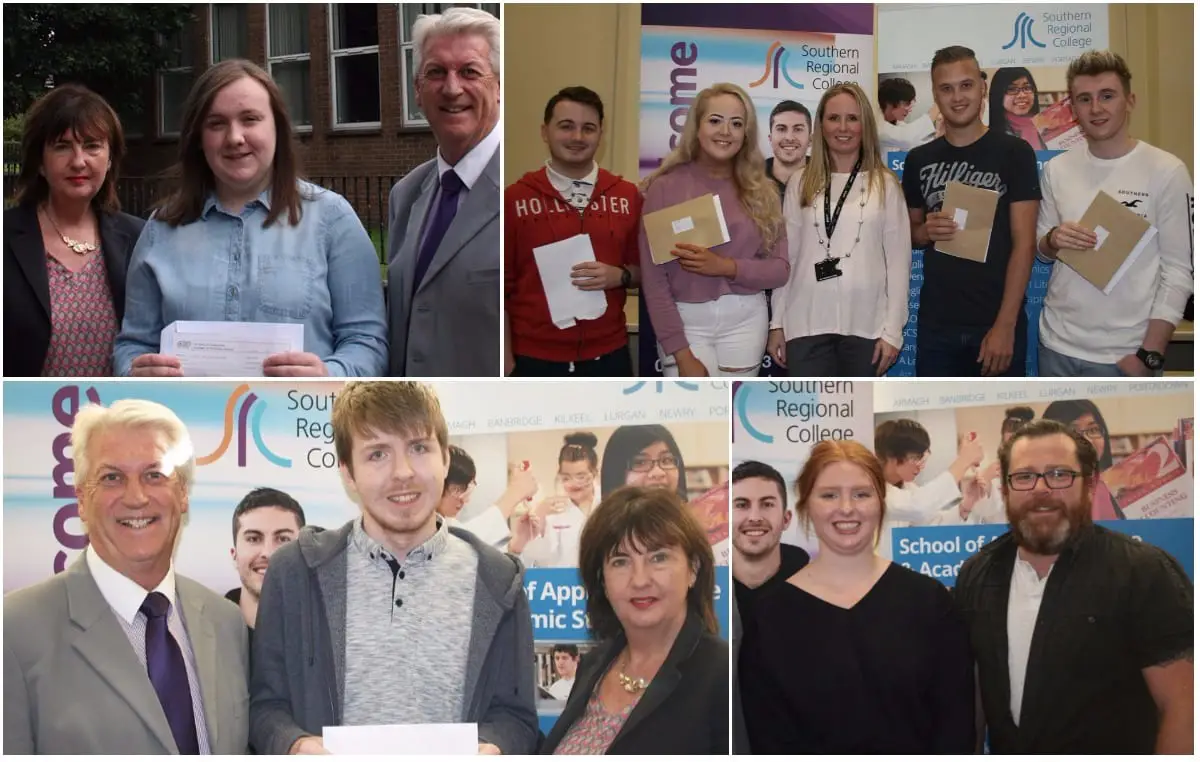 Southern Regional College students achieved a 100 per cent pass rate in seven subject areas at A2 Level this year with 8 A2 subjects achieving an 80% A*-C grade.
These subjects that achieved a 100% pass rate were Physics, Maths, ICT, Geography, History, Religious Studies and English Literature.
Four subjects at A2 level also had students who achieved A* grades.
At AS Level students in 8 subject areas achieved A Grades with students of Mathematics achieving 13 A grades.
Matthew Sloane from Armagh achieved an outstanding A*AA in Physics, Maths and ICT and is going to study Maths at Queen's University, Belfast.
Lucy Currie from Portadown achieved superb results with A*AA grades in English Literature, Religious Studies and History, and is going History and Arabic at Edinburgh University.
Amy Anderson from Armagh achieved A*A*A in Biology, Chemistry and Maths.
Amy is going to study a Masters of Biochemistry at Queen's University Belfast. Amy previously undertook a placement at the United Space school in Houston and a Nuffield Placement at Norbook, as well as winning at the BEST Awards.
Michael McDonald, Head of School for Applied Science and Academic Studies said: "This has been a great year for our learners. I am very proud of our achievements, particularly in the subject areas which achieved 100% pass rate, particularly of our A2 year which saw an increase in A*. It is a real testament to the hard work and effort of staff and learners in a Further Education College that we have performed so well."
Many students have been accepted onto courses in Accounting, Business, Chemistry, Computing, Communications, Dietetics, Drama, Engineering, Geography, History, Law, Mathematics, Medicine, Nursing, Occupational Therapy, Pharmacy, Radiography, Speech Therapy and Veterinary Science.
Southern Regional College offers a wide range of 'A' Level, 'AS', repeat A Levels and Extended Diploma courses. As well as new Part Time A Levels now at Newry and Lurgan campuses.
An SRC Clearing Day is planned on Thursday 31st August 2017 from 11am to 4pm on all our campuses to inform students of any available places on our courses.
This event will be open to prospective students who are unable to obtain a place or any late applicants.
For further information please phone 0300 123 1223, visit www.src.ac.uk or call into any of our six campuses to find out what options are available for your future.
Sign Up To Our Newsletter