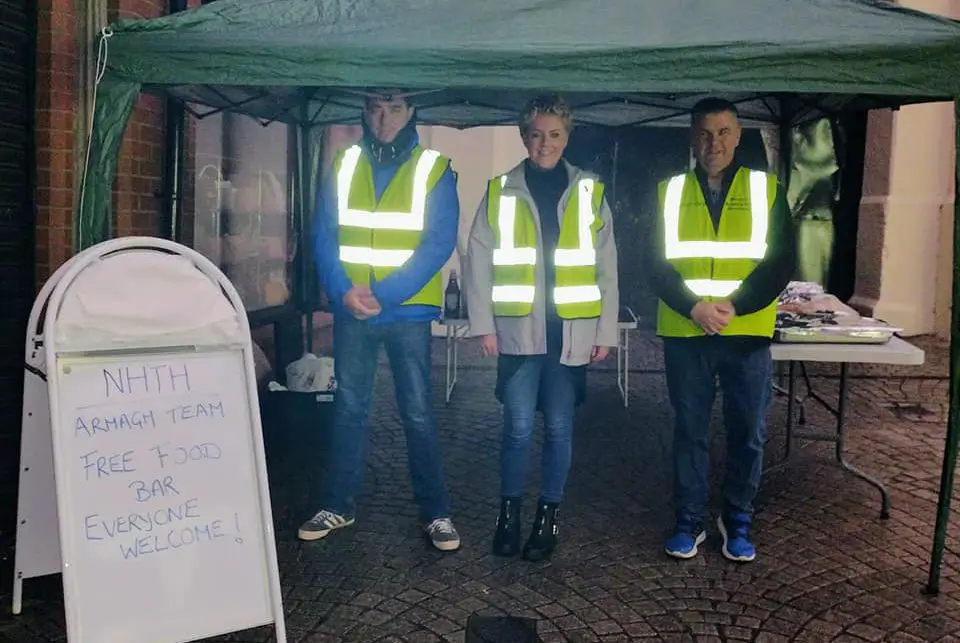 A food outreach service, to help people in need, has been launched in Armagh.
It has been organised by Newry Helping The Homeless (NHTH), which has provided an outreach service for many years in Newry, Dublin, Drogheda and Dundalk.
Aislinn Grant, Armagh team leader, said: "We find with the increase in food poverty that we are assessing a need for it in our own city.
"We are welcoming everyone experiencing homelessness, food poverty or just loneliness to come along to our table for some hot food, sandwiches, refreshments, tea, coffee or water offered by our friendly team."
The group set up its first table in Armagh (outside Danske bank) on Saturday and will be back again at the same spot this Saturday, October 23, from 6.30-7.30pm.
Said Aislinn: "I personally find it sad that there has been nowhere to go for anyone that's been hungry over the weekend.
"Armagh Food Bank, Vibe and The Vineyard offer great support to people struggling throughout the week.
"We at NHTH have noticed the increase in children attending our outreach tables and we would like to identify children and adults in our own area that may like to call along to our table for a hot meal."
She said the first night had generated considerable interest and thanked everyone who called over to chat or left a donation.
Those who helped out on the night included James McVeigh of JPs Chip shop who provided the hot food, Nora Quigley and friends at West Armagh Consortium who supplied sandwiches and Nora's father Danny who brought along other food supplies.
Said Aislinn: "All food remaining was divided up and brought to known families in our area by our volunteers. .. A combined effort from the people of Armagh, thank you."
After this Saturday, the team will be back at the same spot on the following Fridays – October 29, November 5, 19, 26, December 3, and every Friday after.
Sign Up To Our Newsletter