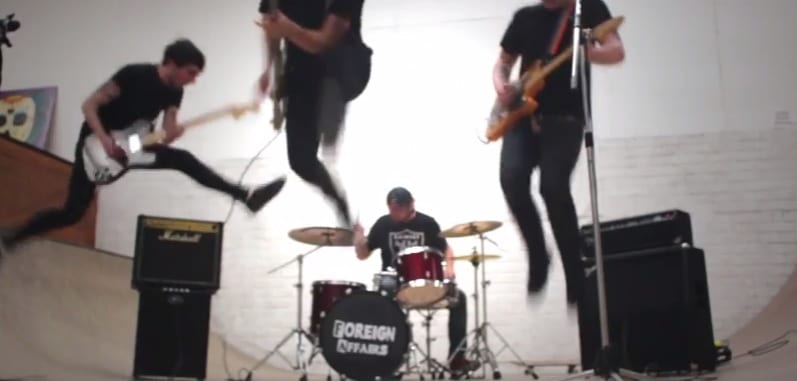 Here's the debut single for Armagh band Hello Casanova (previously known as Foreign Affairs).
They have teamed up with London-based Supersonic Media for the single 'I'll Be Waiting'.
Hailing from Armagh, Hello Casanova create catchy songs with mass amounts of energy and an anthemic twist.
They write sweet and catchy pop punk songs about the world they're living in.
Their songs focus on heart, drive and passion for the pop punk genre, with every song conveying meaning drawn from their own real life experiences and issues.
Hello Casanova are Matt Irwin (rhythm guitar and vocals), Ethan Williamson (lead guitar and vocals), and Martin Miller (drums and bass guitar).
The single, "I'll Be Waiting", a straight-up but edgy personal love song, was recorded by acclaimed producer Rocky O'Reilly (And So I Watch You From A Far, Fighting With Wire, Bella Union artist exmagician).
Despite an underlying Celtic-melodic guitar riff slightly reminiscent of Big Country, this composition also strongly calls to mind such modern-day bands as Blink 182 and Green Day.
The accompanying music video captures the live energy of a Hello Casanova show, presented in combination with unique visuals, featuring up-and-coming Irish skaters and bike athletes.
"The music video was recorded in a skate park in southern Ireland and features people from the age of 6-26 all skating around having a great time while we perform," explains Hello Casanova frontman Matthew Irwin.
"Pop punk can be cliché. It can be the same three chords over, and it can be all chorus with the rest filler. We set out to try and give pop punk a different angle – to give all the heart that the genre deserves and to add our own spin on the sound."
Their vast amounts of energy during shows, along with fabulous crowd interaction and passion, have taken them as far as the west coast of the United States. Their live show is a cut above, bringing their infectious mix of Celtic-tinged rock and punk to many.
"I'll Be Waiting is the happiest song we've ever written! As Foreign Affairs, we put out a lot of serious tracks that were political, angry and very serious," says guitarist Ethan Williamson.
"Now, as Hello Casanova, we wanted our first track to be a positive burst of energy! This song details our singer Matt's love for his girlfriend, who he's been with for five years!
"We wanted it to be catchy, anthemic and have heart and we're over the moon with the results! We're currently heading to the studio to record our next single which we're also very very proud of."
Read more news:
Young female driver approached by man who demanded she get out of her car
Protest group have their voice heard over new Craigavon leisure centre concerns
Major extension at Hamilton Court now up for approval just one year after closure threat
Sheep slaughtered and farmer pounced upon in frenzied dog attack
Firefighters tackle huge blaze at county Armagh industrial unit
Three people taken to hosptial following two-vehicle crash
GP services 'at the point of collapse' – it's time to stop denying there is a problem
Bridesmaid lands dream wedding band for best friend after Facebook post goes viral
New Irish language centre team appeal for votes to win 'jobs and investment' funding
Council postpones pavement cafe licence fees as fears voiced some could close
Sign Up To Our Newsletter