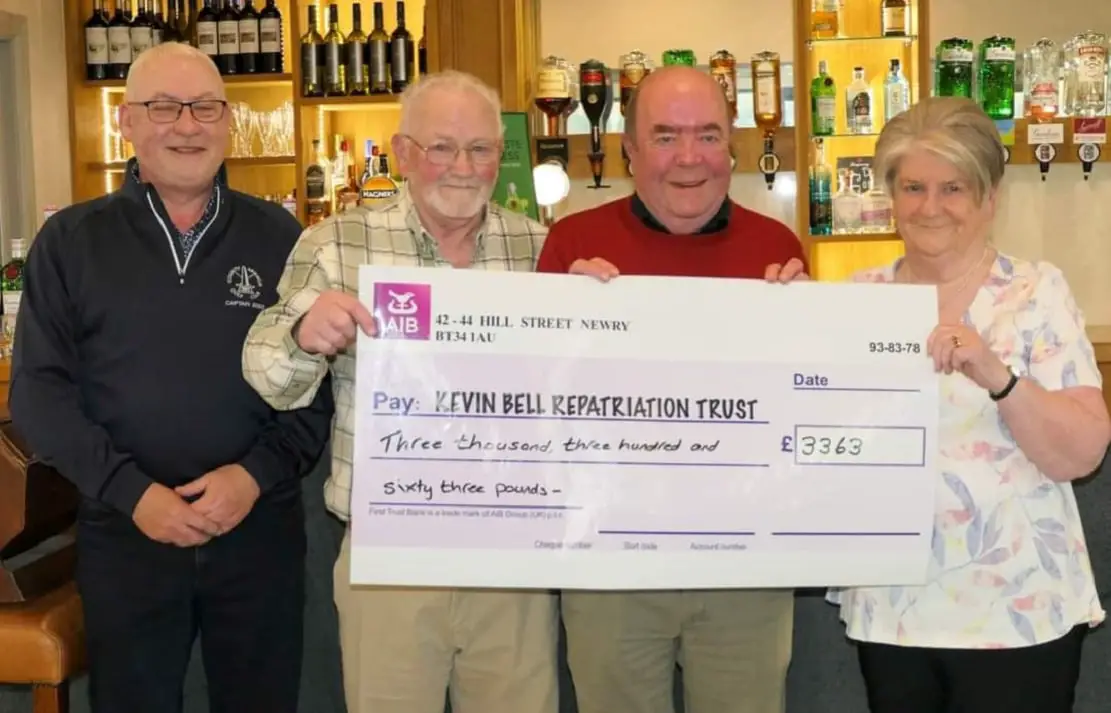 An 80-year-old Armagh man has announced the latest proceeds from his recent fundraisers – £3,363 in aid of the Kevin Bell Repatriation Trust.
Brendan Toner, who took to charity fundraising to keep himself busy in retirement, presented the cheque to the Trust – assisted by his wife Marie – at an event at the County Armagh Golf Club on Sunday.
The amazing total was gathered together from a quiz which Brendan organised in the Armagh City Hotel on March 3, and from his surprise 80th birthday party, where he asked that, instead of giving him a gift, guests donate to the Kevin Bell Trust.
Colin Bell, who set up the Trust in memory of his son Kevin, attended the event and told those present the backstory of why and how the charity came to be set up.
Paula Stride, Brendan's daughter, said: "We're all very, very proud of the achievement that Daddy has done with this fundraiser. He was very proud for Kevin Bell's father to come and explain what happened with Kevin and the reason why he started the charity.
"It was an absolute pleasure to be there. Most of the family members were there to support him and to let Daddy know how proud we are of him."
She added: "He was very proud to have done this with all the support he gets from Mummy and his golfing family for the fundraising."
In a post on Facebook, the Kevin Bell Repatriation Trust thanked Brendan and Marie for the donation.
They said: "A big thank-you to a fantastic couple, Brendan and Marie Toner, from Armagh Golf Club, who run quizzes and raffles in the club during the long winter evenings. We are grateful for the fantastic £3,363 they raised for the Trust through their efforts."
---
Read more: 80-year-old Brendan to continue fundraising efforts with table quiz
Sign Up To Our Newsletter