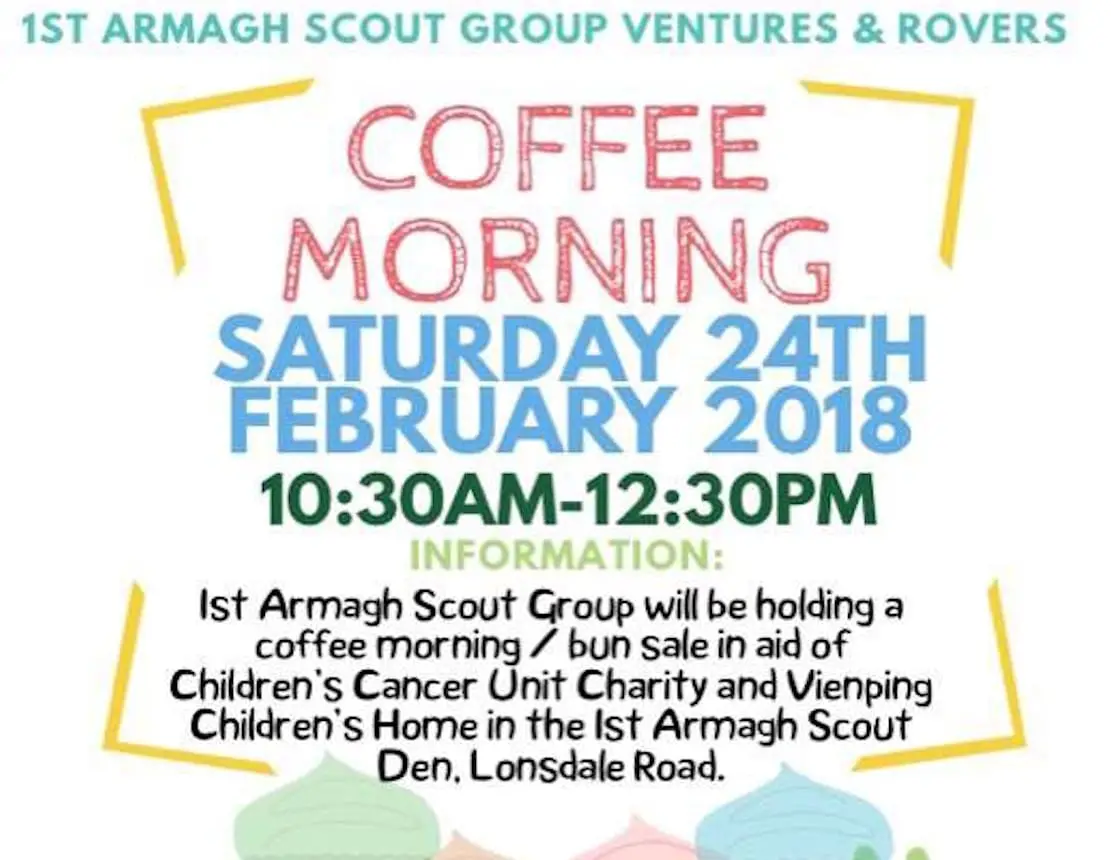 The 1st Armagh Ventures/Rovers are hosting a coffee morning for two very worthy causes; Vienping Children's home Chiangmai and The Children's Cancer Unit.
Both of these charities have had a huge impact on two of the group's ventures.
The coffee morning will be taking place on Saturday, February 24 from 10.30am-12.30pm, so feel free to call in!
It's being held in 1st Armagh Scout Den on Lonsdale Road.
If you can't make it on the day and would like to donate or you would prefer to donate online, here's a link to our justgiving: https://www.justgiving.com:443/crowdfunding/armagh-ventures-rovers-coffee?utm_id=63
On the day there will be buns, cakes, sandwiches and tray-bakes, a chocolate fountain , tea and coffee and lots of prizes to be won!
If you want to buy tickets, get in contact with one of our ventures or rovers or you can buy one on the day, they are £2 for a square.
Thanks to everyone who has donated prizes or money and a big thanks also to all our leaders, ventures, rovers and the rest of the scout sections for making this coffee morning possible.
Hope to see you all there on the day! Many thanks, 1st Armagh Ventures and Rovers.
A bit about the charities:
The Children's Cancer Unit Charity exists solely to support the work of the Children's Cancer and Haematology Unit at the Royal Belfast Hospital for Sick Children and their families.
It depends on donations from supporters.
The Children's Cancer and Haematology Unit cares for children up to the age of 16 with cancer and blood disorders.
Around 50 new patients with life threatening conditions are seen every year.
The charity's mission is to support the work of the existing unit and staff at the Royal Belfast Hospital for Sick Children in providing care for children with cancer and blood disorders.
This includes funding new equipment, such as the recently new MRI scanner and two new isolation rooms on the ward and also towards staff training and research.
Vienping is a Children's home in Chaingmai, Thailand that works to give children from 17 provinces a home from newborn up until 18 years old.
They house 500-600 girls and boys that they provide 24/7 care for.
They strive to protect their rights, to give them life skills, to look out for their welfare, to ensure they are provided for and supported and to allow them to be part of a family unit.
They look after them as part of the foster care system until 18 or until they rejoin their family or until they get adopted by new parents.
It means a lot to all the ventures to raise money so that both causes can continue their great work as both of their funding relies on donations.
Sign Up To Our Newsletter