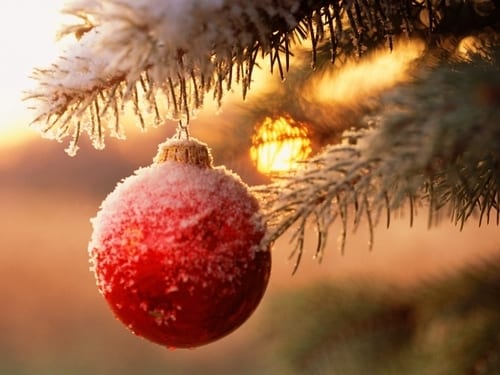 It's eight days to go and the question for many is: "Will we be seeing a white Christmas?"
The answer, truthfully, for forecasters, is it's just too early to say.
Bookies have slashed the odds on a white Christmas after last weekend's first real fall of snow in these parts.
Ladbrokes will now give you odds of 7/2 that snow will fall in Belfast on Christmas Day, while William Hill is currently offering 5/1 for those who fancy a flutter – or should that be flurry – on possible snowfall.
The other side of the coin now is that some are actually predicting that, far from a white Christmas, we could be about to experience the warmest Christmas Day on record!
In fact, this has been the fourth warmest start to December since 1960 across the UK as a whole, with an average 7.1 C, with only 1979, 2000 and 2006 being slightly milder.
According to the Met Office, the first half of December has been very mild to date, with temperatures 3.2 C above average for the UK as a whole.
"The humid south-westerly airflow means the weather has remained similar to last month: cloudy with very few clear nights, mild nights and very little sunshine for most areas," the Met Office reports.
Christmas Day itself is expected to be exceptionally warm.
And bookies too have slashed the odds from 10/1 to 3/1 that it will actually break the 15.6 C record for Christmas Day.
It certainly has been balmy of late and that looks set to continue.
After the rains and winds brought with Storm Desmond, temperatures in some parts are peaking above southern hemisphere.
But the Met Office says that we can expect more ups and downs in the days ahead too.
"Indications are that the unsettled weather will continue through Christmas and into the new year," it reports.
"Showers or longer spells of rain are expected across all parts, with the heaviest and most persistent rain in the north and west."
We can of course expect gales too at times, but temperatures should stay generally above – well above!! – average.
The temperatures in Northern Ireland have hit into the low teens and the warmer weather is expected to continue.
But back to the white Christmas?
The last 'official' white Christmas came in  2010, when snow was widespread across Northern Ireland, and right throughout the UK.
Now where did we put those betting slips…?!?!
Read more news:
Man (26) shot in both legs in County Armagh
Parole Board will decide if and when schizophrenia patient will be released
Brazen thieves drink at clubhouse bar they were in process of robbing
Police and Fire Service attend early morning arson attack in Markethill
Tragic Keady girl's brave battle to help other children undergoing treatment for cancer
Consultation opens on reducing wholetime firefighter services in County Armagh
Trial starts of young south Armagh couple accused of terrorised related offences
Sign Up To Our Newsletter