The ABC council will confirm by the end of next month that it has all the arrangements in place ahead of the implementation of new legislation on the licensing of pavement cafes.
The Department of Social Development has written to Armagh City, Banbridge and Craigavon Borough Council chief executive Roger Wilson reminding of its intention to bring the Licensing of Pavement Cafes Act (NI) 2014 fully into operation from April 1 next year.
DSD previously consulted with councils and other stakeholders during the Bill stage and found that there was broad support for the licensing scheme with some concerns raised over a number of provisions. These included concerns by disability groups regarding safeguards for disabled pedestrians.
The Minister has given assurances that particular emphasis will be placed on the needs of pedestrians.
Other issues related to the regulation of the licensing scheme and amendments have been made to ensure that there will be a more balanced approach to revoking or suspending a licence.
The legislation should also allow councils some discretion to tailor applications appropriately to their local area.
Departmental guidance will be issued to councils to assist in the implementation of the legislation and officers are currently working with DSD in finalising this.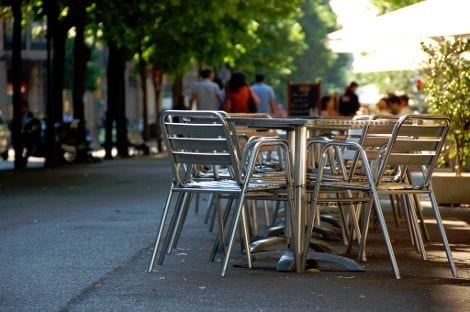 To ensure that arrangements will be in place for April 1, 2016, a further report will be submitted to councillors before the end of December this year, seeking approval on operational matters, such as the application fee and licence conditions.
In the interim, a response will be forwarded to DSD advising that council will have the required arrangements in place for implementation of the legislation.
The licensing scheme will allow owners of cafés, restaurants, pubs or other premises selling food or drink, to apply to the council for a pavement café licence.
The Act places an onus on a council to grant a licence unless it has good reason to refuse an application.
Councils will be required to consult with Transport NI and, where the premises are licensed for sale of alcohol, to consult with the PSNI.
Councils will be able to impose a range of licence conditions, charge a reasonable fee and may vary, suspend or revoke the licence in certain circumstances. Councils will also have the power to remove facilities at unlicensed pavement cafés.
The Department has been engaged in discussions with Inclusive Mobility Transport Advisory Committee who have requested that the guidelines are strengthened to protect pedestrians.
The Act does not specify minimum standards in terms of the size, layout or design of a pavement café and the licensing scheme should provide sufficient safeguards to ensure authorised pavement cafés will be safe, well managed and sensitive to the needs of street users and the surrounding area.
Each café will need to be assessed on a site by site basis, having regard to the existing streetscape, traffic volume and the level of footfall.
A further report will be made to Armagh, Bannbridge and Craigavon Council, which will examine the wider potential impact of the café culture upon the economy, leisure and tourism of the area.
Read more news:
Body of a man found in house in Armagh
Ennis and Armagh expected to benefit from relocation of e-liquid operation
Minister hails £12m roads investment despite budgetary cuts
Hunt for armed robber who escaped with cash from Co Armagh shop
City centre thefts prompt police to advise shopper vigilance
Dunnes Stores decides to remain in Portadown
Sign Up To Our Newsletter
Sign up to our newsletter for major breaking news stories as they happen – right to your inbox.