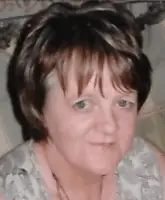 McCabe, Susan (Clonoe) April 18, 2023. We the family, husband Sean, daughter Maria and her partner Keith, son Aidan and grand daughter Sara-Jayne of the late Susan McCabe rest in peace, would like to express our sincere gratitude and deep appreciation to all those who sympathised and supported us in our recent sad bereavement of Susan our much loved wife, mother, grandmother, sister, sister in law and dear friend.
We express sincere thanks to all those who called at the family home to pay their respects throughout the wake, attended the funeral, telephoned, sent mass cards, sympathy cards and left messages online, we are truly grateful.
Our heartfelt thanks to all those family and friends who brought food, provided refreshments and assisted in anyway throughout the wake, especially to Derrylaughan Kevin Barry's GAC. To Colette and Shane the Doorstep Restaurant and Carolina and Seamie Berts for providing food throughout the wake, your kindness was much appreciated.
To Kellie Ann, Sean and staff for providing the beautiful food after the funeral and to Enda Bell for the use of the Four corners, thank you.
A special word of thanks Dr Cormac McKay and all the staff of Ardmore Medical Practice for their unfailing care, support and attention throughout.
Our sincere thanks to The Coalisland District Nursing Team for their continued care and support to mummy and to us as a family, we are forever grateful.
To all the medical staff at Craigavon Area Hospital, Ambulance Service and Acute Care at home team, thankyou.
Also a special word of thanks to Michael Dorman for his care and unfailing support throughout the years.
Our heartfelt thanks to Fr McCallion and especially Canon Fee for celebrating the beautiful requiem mass and for his continuing prayers, support and spiritual guidance and for his many visits to mummy, he has given such comfort to us as a family at this very difficult time.
Thankyou to all that participated in the mass, the readers, Eucharistic minister, the sacristan and especially to Roisin and Mickey for the beautiful music.
A special word of thanks to Peter Devlin M Dorman and Son Funeral Directors for the professional and dignified manner in which he carried out every detail of the funeral arrangements.
The care and compassion shown to us we will forever be indebted and truly grateful.
Thankyou to Gary Harte Gravedigger for his service in preparing mummy's final resting place.
As it is impossible to thank everyone individually we hope this acknowledgment will be accepted as a token of our sincere and heartfelt appreciation.
A special mass will be offered for your intentions.
Susan's months mind mass will be celebrated on Friday May 19, at 7.30pm in St Patrick's Church, Clonoe.
11B Cloghog Road
Magheramulkenny
Clonoe
Contact us via email marketing@armaghi.com and our dedicated team can help you choose a fitting tribute.
Sign Up To Our Newsletter