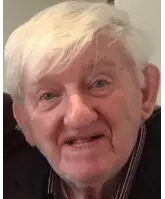 The sons , daughters, daughter in law, sons in law, Grandchildren, Great grand children and entire family circle of the late Patrick wish to thank all those who sympathised with them in their recent sad bereavement.
All those who attended the wake and funeral, and who brought gifts and food to the house.
All who sent cards and messages of sympathy.
To the staff of Craigavon Area Hospital. Orchard Care Home Armagh, Dr Watters Medical Centre. And the wonderful ladies from The Trust Dom care team who cared for daddy over the last few years.
Thanks also to Fr Victor who officiated at the mass and the sacristan. Also Justine Powell, Lucille Conway and Dermot McCusker for the beautiful singing and music. Thanks to those who did readings during the mass and to the pall bearers and the grave digger.
To Mones Funeral Directors for the kind and efficient funeral arrangements and to Basil Shiels staff Tassagh for the beautiful food and refreshments afterwards.
As we cannot thank everyone individually, we hope this will be accepted by all as a token of our appreciation.
Patrick's month mind mass will be celebrated on Saturday September 23, in St Patrick's Church Keady at 6:30pm.
Click here to place a family announcement 
Sign Up To Our Newsletter