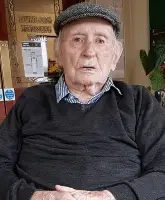 Kevin Agnew Died 18th March 2021
We the sons Edmund, Gerard, Aidan, Grattan and Brendan would like to express our sincere gratitude to all those who sympathised with us on the loss of a much loved Father and Grandfather.
Born 96 years ago Dad was a true Keady man even though he spent most of his working life in England. He derived enormous friendship and strength from Keady people and this was especially true when our mother Maureen RIP died 21 years ago, Dad refused our offers to come to England or Australia to reside with us. We need not have worried about him though as he was well looked out for and cared for, known in all the shops and even a few pubs in his native town.
We are forever grateful for the many treasured and special memories we had with Dad and Mum in Keady, Tullnawood, England and Australia.
Our father or 'PoP' to his grandchildren was a remarkably warm, caring and witty character with immense stamina which belied his age. For at the age of 84yrs he climbed to the very top of Sydney Harbour Bridge an achievement worthy of mention.
Whilst we'd love to share many memories of Dad it is however imperative for us to thank so many people who enriched dad's life. To the wonderful staff of Dunlarg Care home for their attentive love and care of Dad we can not praise you enough and also for facilitating us as a family when we came to visit. Also to Kathleen and Anne of Lir Fold who treated dad with the utmost respect and care whilst he resided there.
Sincere thanks to the priests of the Parish especially Fr McKeever for his pastoral care of Dad in Dunlarg and in particular to Fr Aidan McCann for officiating at a very beautiful and fitting funeral Mass. To Jenny Carr (née Gribben), for the amazing choice of music to enhance the funeral Mass and to Paul the sacristans and the gravedigger.
Special mention must go deservedly to dad's longtime friends Jennifer and Jim King, Edmund and Una Nugent and Thomas Callaghan for their unfailing attention to dad and for absorbing and welcoming him into their homes and families
Finally to Bridget Mone of Mone Funeral Directors for the professional and sympathetic handling of all the funeral arrangements.
We trust this acknowledgement will be accepted by all as a token of our sincere and humbled appreciation and thanks.
Kevin's month memory mass will be held in St Patrick's Church Keady on Saturday 17th April at 7pm and may be viewed HERE
Sign Up To Our Newsletter