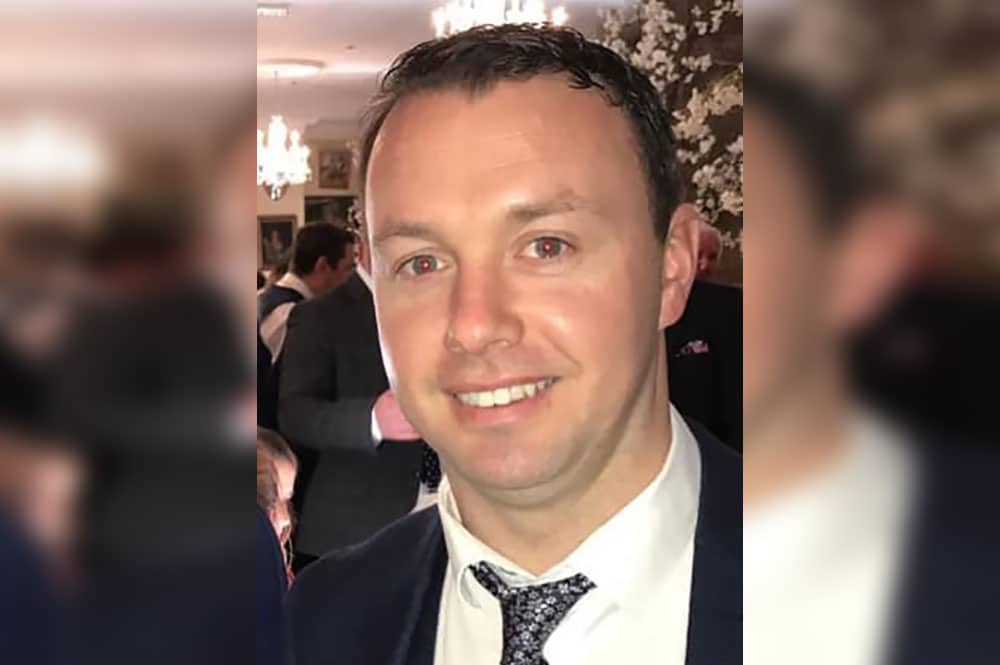 We the family of the late 𝐉𝐚𝐦𝐞𝐬 𝐑𝐞𝐞𝐥 𝐑𝐈𝐏 wish to express our heartfelt thanks to everyone who sympathised with us on the tragic bereavement of our wonderful Loving Husband, Father, Son, Brother, Son in law, Brother-in-law, and Friend James.
Firstly, we would we like to express our thanks to our local first responders and emergency services for their prompt response and assistance. As a local voluntary group, the first responders were extremely helpful and professional at this difficult time, we are profoundly grateful to them. They are an invaluable asset to our community.
We offer our sincere heartfelt thanks to everyone who attended James's removal and funeral and with much respect and in a dignified manner stood outside the house on the morning of the funeral, lined the roads from the Carrigan's Pass and all along the route for his final journey to Glassdrummand. Our family very much felt your presence and support.
To all those who were able to join us inside the Chapel, to those who stood outside and adhered to the current health guidelines and to everyone who listened to the funeral mass online – it was touching to have you all with us on that day to say farewell to our beloved James.
A special note of thanks to Donal and the boys for making the LIVE mass possible as without their efforts James's close friends and family at home & abroad would not have been able to listen in.
A special mention to our Club Silverbridge GAA who formed Guards Of Honour at James removal and funeral and together with the local community organised a beautiful and powerful candlelit vigil outside James's home on the Tuesday evening, this brought so much comfort to his heartbroken wife Mairead and our entire family. We are forever grateful for such a beautiful tribute to James – he would certainly be watching with pride for his club and community.
Sincere thanks to everyone for the numerous acts of kindness, for all the messages, cards, flowers thoughts and prayers sent from near and far, these have brought great comfort to the extended Reel & Conlon families. To all those who brought food to our table we thank you so much. Thank you to Nurse Laura McCabe for checking on Mairead daily, this gave us great peace of mind. Thank you to everyone who shared stories and wonderful memories of James they have truly highlighted what an amazing and special person James was.
James was lucky enough to have a second family in his life – his wonderful friends, although not through blood but through a bond that can never and will never be broken. We thank them for the support they have shown Mairead and our family and for never leaving James's side, for always been there for him and the help they give us in giving James the send-off he truly deserved.
A special thank you to Fr Malachy Conlon and Fr Dermot for all the spiritual support they have provided during this extremely difficult time. Thank you to Fr Malachy for the beautiful and incredibly moving sermon, we cannot thank you enough – you made the mass so much more special knowing James and his character.
Our heartfelt thanks to Brendan Garvey and the team at McConville Funeral Directors for their efficient, dignified and caring approach during these difficult days. Thank you to Sionan and Odhran for the beautiful music, to DMC Design for the mass booklets and Fleur N Bloom for help with the flowers.
It would be impossible to thank everyone individually, but we are profoundly grateful and hope this acknowledgment is accepted as a token of our heartfelt appreciation.
Our beloved James has left behind a Legacy '𝒉𝒆 𝒉𝒂𝒔𝒏'𝒕 𝒍𝒆𝒇𝒕 𝒔𝒐𝒎𝒆𝒕𝒉𝒊𝒏𝒈 𝒇𝒐𝒓 𝒑𝒆𝒐𝒑𝒍𝒆…𝒉𝒆 𝒉𝒂𝒔 𝒍𝒆𝒇𝒕 𝒔𝒐𝒎𝒆𝒕𝒉𝒊𝒏𝒈 𝒊𝒏 𝒑𝒆𝒐𝒑𝒍𝒆'. Our Hearts are broken beyond repair, while time might ease the pain that hole will always be there.
James months mind mass will take place on Friday 14th May @ 8pm in St Brigid's Church Glassdrummand.
𝐒𝐭 𝐆𝐞𝐫𝐚𝐫𝐝 𝐌𝐚𝐣𝐞𝐥𝐥𝐚 𝐏𝐫𝐚𝐲 𝐅𝐨𝐫 𝐇𝐢𝐦
Sign Up To Our Newsletter
Sign up to our newsletter for major breaking news stories as they happen – right to your inbox.