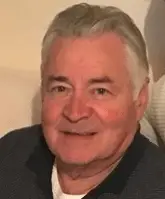 McParland, Frank, (Corran ) The family of the late Frank McParland have requested this acknowledgement is posted Frank's wife Bernie, sons Kevin, John, Francis and James, daughter Jenny and the entire family circle wish to thank all those who sympathised with them during their sad loss.
To all our wonderful family,friends and kind neighbours whose help and support was invaluable not only over the wake and funeral but indeed over the years.
We thank all those who attended the wake and funeral, brought mass/sympathy cards, telephoned, messaged or posted online their expressions of sympathy we assure you these were all greatly appreciated. Also we were overwhelmed by the individuals and businesses who brought gifts of food to the wake and to all those who give floral tributes.
We are indebted with gratitude to all the Doctors and nurses both in hospital and at home who provided care during Frank's illness , in particular the medical/nursing, ancillary and chaplaincy staff of Daisy Hill Hospital .Also to Franks GP and the staff of Willowbank Surgery, the Keady District Nursing team and to the community Respiratory team.
We thank the priests of the parish and especially Fr Greg Carvill who celebrated a very beautiful and fitting funeral mass and who attended Frank both at home and in hospital.To Catherine and Dermot for the wonderful music which enhanced the mass and to the sacriston we thank you.
Thanks also to the groups and organisations who provided the guards of honour , Granemore GAA, Tassagh Road Bowls and the Rock Bar Darts Team .
We thank Sheils for providing the post burial refreshments and to Granemore GAC for the use of the hall.
Finally to Mone Funeral Directors for the compassionate complete and professional handling of all the funeral arrangements. At the risk of failing to mention someone we trust this acknowledgement will be accepted as a sincere token of our appreciation.
Frank's month mind mass will be held in St Mary's Church Granemore on Friday June 2, at 7:30pm
Contact us via email marketing@armaghi.com and our dedicated team can help you choose a fitting tribute.
Sign Up To Our Newsletter