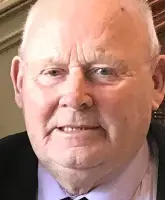 Acknowledgment for Francie Lennon who passed on the September 2, 2022.
Mary, the sons and daughters, brother and sister and wider family circle of the late Francie Lennon wish to sincerely thank everyone who sympathized with them on their recent bereavement.
Thanks to all who sent cards, messages and flowers and attended the wake and funeral. Thanks to all who travelled various distances to offer their condolences.
We express our sincere appreciation to Fr Sean Moore for his spiritual guidance to Francie and the family and for celebrating his funeral mass.
We would like to thank all the professionals who cared for Francie during his illness; to the doctors, nurses and staff of Tynan and Keady surgeries and Marie Curie nursing staff.
We also wish to thank our neighbours, friends and relatives who showed outstanding support, generosity and kindness to Francie and the family during his short illness.
We are particularly grateful to all those who helped with the organization of the wake including those who provided and organized food and supplies, made tea, organized traffic and parking and all who helped in any way.
Thank you to EC Hughes Funeral Undertakers and in particular Martin and Patrick for their professionalism and the considerate and dignified way in which they carried out the funeral arrangements.
A special thanks to the grave diggers for preparing Francie's final resting place.
Thanks also to Middletown GAA for their guard of honour both at the family home and at the church and their assistance with traffic and parking.
Thanks to everyone who donated to Marie Curie in lieu of flowers.
Thank you to Catherine Grimley and Dermot McCusker for the beautiful music and song at the funeral mass.
Thank you to McEntee's Outside Catering for the refreshments provided after the funeral.
As it is impossible to thank everyone individually, please accept this as a token of our heartfelt thanks and gratitude.
Francie's month's mind mass will be celebrated on Saturday October 1 in St John's Church, Middletown at 12 noon. The Holy Sacrifice of the Mass will be offered for your intentions.
Please leave messages of condolence in our comments section on the website 
Remember a loved one with a sympathy or memoriam notice on Armagh I.
Contact us via email marketing@armaghi.com and our dedicated team can help you choose a fitting tribute.