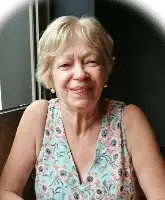 Anderson, Donna. (Dungannon). The family of the late Donna wish to express our sincere appreciation and heartfelt thanks to all those who sympathised, prayed for and supported us in so many ways through our recent sad bereavement. Donna was a dearly loved Wife, Mother, Mother in law, Sister, Aunt and Friend.
Thank you to those who visited the wake at Martin's Funeral Home, sent comforting cards, messages and flowers, lined the funeral route and to those who joined us at the requiem Mass.
We'd like to give sincere thanks to our relatives, friends and neighbours who helped us throughout this time in so many ways.
A special word of thanks to Father Eamon McCamley, for his spiritual support and the comforting Requiem Mass. We convey our appreciation also to the Sacristan and everyone who took part in the Liturgy, especially our singer Lia Dunne who provided the beautiful uplifting music.
Thank you to McAtee Funeral Directors for their support and the dignified and professional manner in which the funeral arrangements were carried out. Our thanks also to the gravedigger for preparing Donna's final resting place.
Donna is loved and missed every day, may her gentle, generous spirit be granted peace and eternal rest.
Her Month's Mind Mass will be celebrated in St Patrick's Church, Dungannon on Monday July 17, at 7.30pm.
"Our Lady pray for her".
Contact us via email marketing@armaghi.com and our dedicated team can help you choose a fitting tribute.
View other announcements here
Sign Up To Our Newsletter