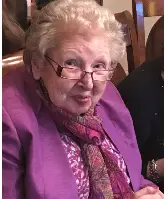 McNally, Anna, (Armagh). Patricia, Dolores, Damien and Adrian would like to express their heartfelt thanks and sincere appreciation to all our family and friends who sympathised with and supported us during the recent very sad bereavement of our mother Anna R.I.P.
We would like to thank again Collegeland Nursing Home nurses, carers and support team, past and present, for their kindness shown to Anna over the last five years. Your tender care shown to her will be forever in our minds. A special thanks also to everyone who donated to the Collegeland Nursing Home Patient Comfort Fund in lieu of flowers.
Thank you to our relatives, neighbours and friends who have helped in so many ways and for all your help and support in and around our home before, during and after Anna's wake it was greatly appreciated.
Thank you to everyone who visited our family home, who sent messages of support, mass and sympathy cards, posted condolences online, who kept us in their daily prayers, and to those who sent gifts of food to our home.
To everyone who travelled from near and far for Anna's funeral. We were overwhelmed by your expression of sympathy.
A sincere thank you to Fr Sean Moore for officiating at a beautiful and fitting funeral mass, for his kindness and support to our family, and for his visits to our home and to pray with Anna at the Nursing Home over the years.
Sincere appreciation to Catherine Grimley and Dermot McCusker for their beautiful singing and musical pieces which enhanced the funeral service and to everyone who took part in Anna's funeral mass.
Thank you also to the PSNI for their cooperation of traffic management on the morning of the funeral.
Finally, a special thank you to Martin and the team at E.C. Hughes Undertakers for their kindness, direction, support and for providing the post burial meal. You went above and beyond your care of duties which we will be forever grateful to you for.
"Sacred Heart of Jesus have mercy on her gentle soul".
Anna's Month's Mind Mass will be held this Sunday, November 27, at 11:30 a.m. in St. John's Church, Middletown. View mass here
Sign Up To Our Newsletter