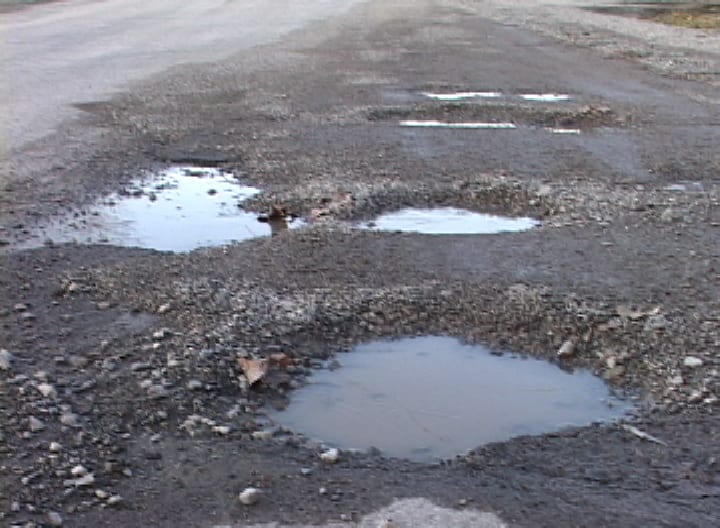 Potholes on local roads will have to be 'ankle deep' before being classed as in need of repair.
And there is no additional money to be made available to tackle the ongoing state of local roads.
The revelations were made during the course of a meeting in Belfast involving an SDLP delegation and Mr Peter May, Permanent Secretary at the Department of Infrastructure Peter May.
Newry and Armagh SDLP MLA Justin McNulty later lambasted the new approach by Transport NI for the way in which they judge if roads are bad enough to warrant repair.
Read more: Sixty-seater cafe and restaurant planned for Portadown's main thoroughfare
He said roads were in a "terrible state" and it was one of the most common issues being raised with locally elected representatives.
"The list of roads needing repair is just getting longer and longer," said Mr McNulty. "Rural road residents in particular are getting really frustrated, especially when the problem is reported and the yellow line around the pothole appears but the tar to repair the damage never does.
"During our meeting with the Permanent Secretary, I pressed Mr May on the need for additional resources to be allocated to section offices to carry out necessary repairs.
"However, not only did he not indicate any additional money would be forthcoming, he went on to explain that the potholes would have to be four inches deep before they would warrant repair.
"This is an astonishing response from the Department given the repair needs of our local roads 'infrastructure'.
"This approach is short-sighted and doesn't make sense. Instead of investing money to repair roads now, the Department of Infrastructure and Transport NI are saying let's leave the roads to get into an even worse condition, and then repair them.
Watch: 25,000 people flock to Armagh for Georgian Day celebrations
"The outcome will be spending even more on repairing roads when they actually get round to repairing them, and there will also be thousands of pounds spent on compensation.
"Our roads are in a dreadful state and are getting worse. The Department needs to stop ignoring the problem and get on with fixing them.
"I really do think they sit in Belfast thinking of ways not to do something rather than actually fixing problems. I left the meeting in complete disbelief."
Courts
A man accused of disorderly behaviour in an Armagh hotel before exposing his genitals...

A Dromore man who claims he takes cannabis to assist with illness has been...

A man facing double murder charges has admitted to killing an elderly couple in...
What's On
The Market Place Theatre in Armagh is the place to be this summer as...

Armagh Craft Fair returns for the eighth year to the wonderful surroundings of The...