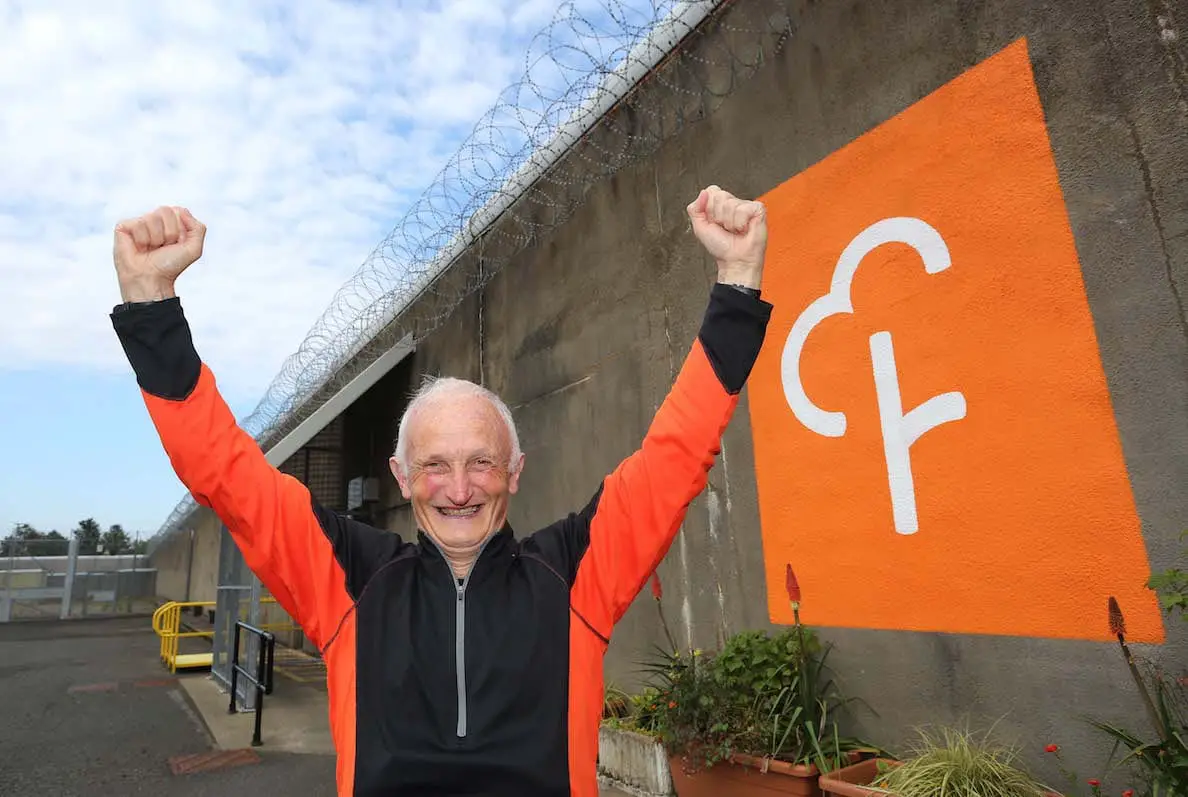 Retired teacher and veteran runner, Tommy Fee, had a milestone moment last Saturday as he crossed the finish line at Lower Drummans parkrun at Magilligan Prison.
The weekly 5k event is held within the grounds of Magilligan Prison, and was the last of the 22 parkruns across Northern Ireland which Tommy aimed to complete.
Director General of the Northern Ireland Prison Service, Ronnie Armour, was at the finish line to congratulate Tommy on his achievement.
He said: "Tommy is a truly inspirational person and one who we welcome to the prison to show that, through commitment and hard work, anything can be achieved.
"The parkrun at Magilligan Prison is going from strength to strength with more and more people taking part. Rehabilitation is at the heart of all we do at Magilligan, and indeed, across the whole of the Prison Service.
"The growing interest in parkrun and the participation by both staff and prisoners makes this a really important event which helps to create – through healthy bodies and minds – a safe community where we respect the law and each other."
Following the event, Tommy – from Banbridge – spoke with other parkrunners and praised the efforts of the prisoners and staff in making the first prison parkrun in Northern Ireland such a success.
He said: "I am absolutely delighted to have been invited to Lower Drummans parkrun and cannot believe the sociable, friendly running community that exists within the prison.
"This is my first visit to a prison and I am so impressed by the work of the staff and how they are supporting those in their care. It has been such an uplifting and positive experience and I have met some really good people today."
Matt Shields, parkrun Ireland's Lead Ambassador said: "Lower Drummans parkrun is blazing a trail in Northern Ireland by demonstrating the positive and significant impact that parkruns can have for both prisoners and staff."
Tommy ran the 5k course in 26:51 minutes alongside prison staff and people in custody.
Courts
A strong man competitor found with a 5,000-volt stun gun in the back of...

A woman has been cleared of careless driving with a judge saying: "I cannot...

A Lurgan man who damaged a woman's front door over what his defence counsel...
EVENTS CALENDAR
-
-
-
-
-
1
2
3
4
5
6
7
8
9
10
11
12
13
14
15
16
17
18
19
20
21
22
23
24
25
26
27
28
29
30
Entertainment News
A darkly comical and deeply moving new play, 'Cracks', takes to the stage at...

Dead funny comedy awaits theatregoers at Armagh's Market Place Theatre on Wednesday, September 19...