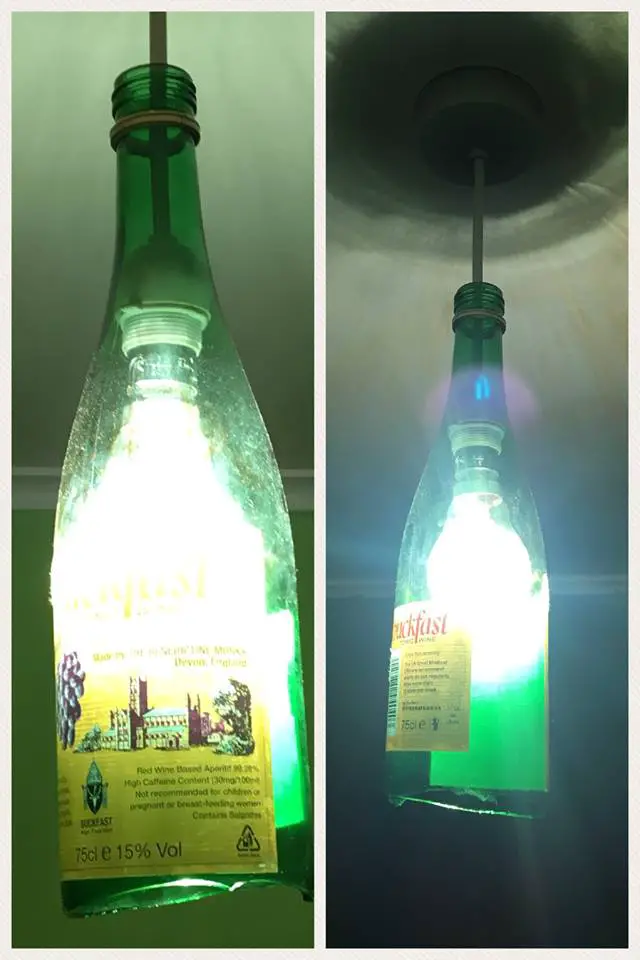 It's not a case of when the drink's in the wits out.
It's more a case of when the drink's out the lit's in!
How's this for a bit of fashional improvisation?
The PSNI in Armagh thought they had seen it all.
But during the course of search operations carried out in recent days they clocked this little number.
A bulb in a Bucky bottle – and we'll all be wanting one!
The PSNI have hailed it as "the interior design feature of 2018″… but the year's early and you never know!
The invention involved is quite simply staggering – or the inventor perhaps considering it's been drained of its contents.
We can only imagine the scene when someone announced they had a few bottles of Buckfast for later to be met by the reply: 'Keep 'er lit!' And they've done just that.
Where or how the idea came about we have no idea but top marks for drinking – sorry thinking – on your feet.
We suspect there could be a market for these!
A simply dazzling display – but enough of that – we're off to apply for a patent for Captain Morgan curtains and Peroni pelmets!
Anyone got the Dragons' number?
Courts
A man who took all his medication at once has been handed a 15-month...

A Portadown man who stole a £500 phone from a shopping centre has been...

A Portadown man who assaulted the mother of his child after an "argument that...
EVENTS CALENDAR
-
-
-
-
-
1
2
3
4
5
6
7
8
9
10
11
12
13
14
15
16
17
18
19
20
21
22
23
24
25
26
27
28
29
30
Entertainment News
As the darker nights draw in, The Market Place Theatre in Armagh is staging...

A darkly comical and deeply moving new play, 'Cracks', takes to the stage at...