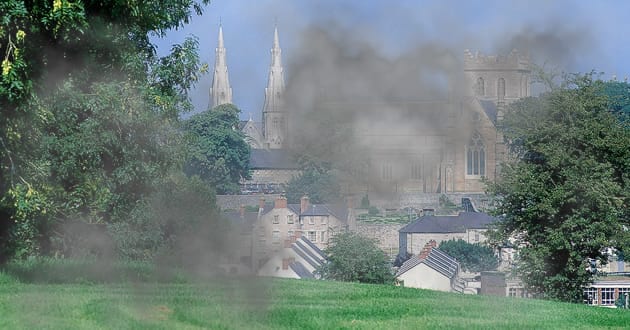 The air in Armagh city is too dangerous to breathe, according to the World Health Organisation.
It is one of 44 out of 51 towns and cities across the United Kingdom – listed on the WHO database – which have failed to meet safe air quality levels.
Sooty particles – known as PM2.5s – can lead to premature death, and cause life-threatening conditions, such as heart disease.
The presence of these particles should not exceed 10 micrograms in a cubic metre of air.
The average annual number in PM2.5s in micrograms in Armagh was 14!
That's even more than Belfast on 12 and Derry/Londonderry on 11.
And compared to other cities across the UK, it exceeds Edinburgh on 8, Liverpool and Carlisle on 12, and Manchester on 13.
Only seven other towns and cities exceeded 14 – and these included London on 15, and worst of all Scunthorpe and Glasgow, the only two on 16.
Dr Toby Hillman, of the Royal College of Physicians, is one of the report's authors.
"There isn't a safe limit for the amount of pollution that has been defined as yet and we know the effects of poor air quality run from cradle to grave," he said. "It's a lifetime threat to human health.
"This is a really direct and tangible impact on UK health from the drivers of climate change and taking action on air quality should be a priority."
Courts
A Craigavon man who refused to go with police after failing to stop shouting...

A Craigavon man who claimed he was on his way to purchase insurance when...

A man who had to be moved to three separate cells for his own...
EVENTS CALENDAR
1
2
3
4
5
6
7
8
9
10
11
12
13
14
15
16
17
18
19
20
21
22
23
24
25
26
27
28
29
30
31
Entertainment News
The Georgian Festival is one of Armagh's blue ribbon events and part of that...

The Market Place Theatre in Armagh is set for a spooktacular week of thrilling...