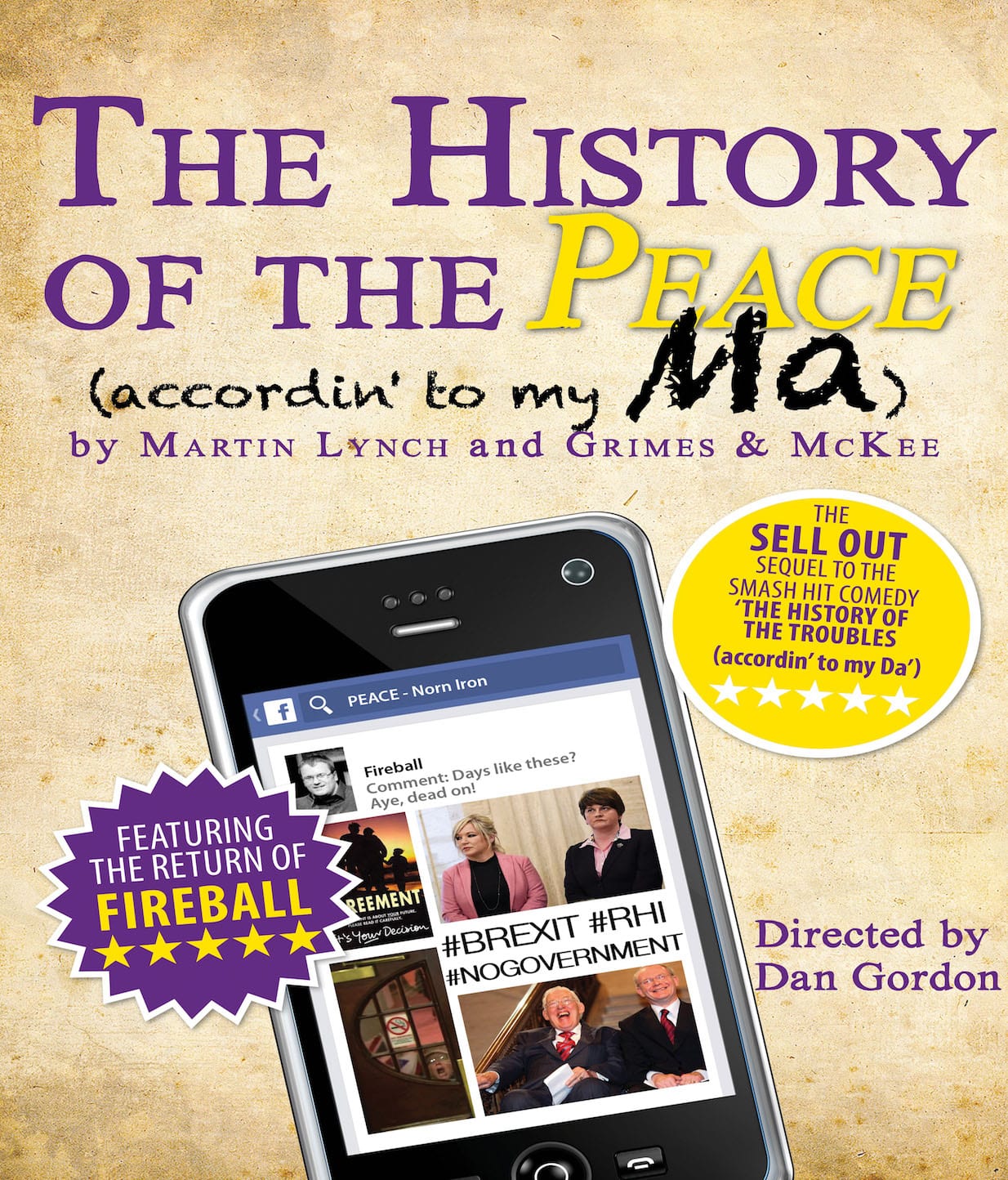 'The History Of The Peace [Accordin' To My Ma!]', the brilliant sequel to 'The History Of The Troubles [Accordin' To My Da]', is back at The Market Place Theatre in Armagh.
A peaceful tale of street protests, riots, guns, bombings, the RHI Scandal, the latest Stormont collapse and even more riots, PEACE also sees the return of the legendary Firebell, joined of course, by a host of hilarious new characters including Pineapple the paramilitary, Stacey the Flegs woman, Roberto the Flute band leader and many more.
And as expected from Lynch, Grimes & McKee, PEACE will be especially updated to scrutinize the very latest 'peaceful' events in Norn Iron.
'History Of The Peace [Accordin' To My Ma]' will run for two nights on Wednesday 22 and Thursday 23 August at 8pm. Tickets are priced £17 and £15 (concession), and can be booked through the Box Office on [028] 3752 1821, or online at www.visitarmagh.com/marketplacetheatre
This production is recommended for age 16+.
And to keep up-to-date with the latest news at the Market Place Theatre, you can follow us on Facebook (www.facebook.com/marketplacearmagh) and Twitter (www.twitter.com/mptarmagh) where you will find all the latest information, special offers and video previews.
Courts
A Richhill woman who was caught gulping mouthwash before she was pulled over by...

A man who stole two bottles of Buckfast from a local off-licence whilst on...

A Portadown couple have both been handed six penalty points after the wife allowed...
EVENTS CALENDAR
-
-
-
-
-
1
2
3
4
5
6
7
8
9
10
11
12
13
14
15
16
17
18
19
20
21
22
23
24
25
26
27
28
29
30
Entertainment News
A darkly comical and deeply moving new play, 'Cracks', takes to the stage at...

Dead funny comedy awaits theatregoers at Armagh's Market Place Theatre on Wednesday, September 19...