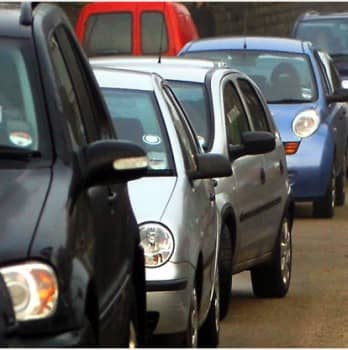 There have been calls for a "fundamental review" of the recently completed Friary Road scheme after claims that, rather than improving traffic congestion, it has made the situation worse.
Tonight, Monday, Transport NI officials were presenting a progress report to Armagh Council, providing an update on the £7.3 million investment in roads across the city and district this year.
The issue of traffic congestion in Armagh is not one which residents take lightly.
Armagh I has recently revealed plans for further works to include a complete transformation of the junction at the bottom of the Newry Road and the provision of a new mini-roundabout at the junction of Scotch Street and Dobbin Street.
Work is also underway at Lonsdale Road in a new sewerage replacement scheme which will affect roads right across the city and is due to run until spring 2016.
As part of that, Armagh I recently revealed that Transport NI was considering introducing a one-way traffic system around the Mall which might later become permanent.
Tonight, Monday, local SDLP Councillor Thomas O'Hanlon revealed to Armagh I that he has written to the Divisional Roads Manager seeking an "urgent review of the effectiveness of the new scheme" at Friary Road.
He said: "The new road layout, which has effectively reduced the number of lanes into Armagh to one along the Friary Road/Ring Road, has proven to be a disaster, and I have asked Roads Service to carry out a review of the scheme to see how effective it actually is.
"Like many other motorists, I don't believe it has been at all effective – in fact, I would say the works have made traffic congestion, particularly at peak times, a lot worse."
Councillor O'Hanlon said when the scheme was first proposed, and then when the contractor was on site, he had met with Roads Service officials expressing concerns and was advised that, once complete and when it had been operational for a period of time, it could be reviewed if requested.
He added: "We are already aware of the planned scheme at the Newry Road / Scotch Street / Barrack Street junction which is to commence in the new year and works have already begun on the NI Water infrastructure scheme.
"I believe that, with all this disruption over the months ahead, motorists will be at their wits end if they cannot get through Armagh in a timely manner.
"I have been inundated with complaints from the local community about the impact the scheme has been having.
"Try and get into or through Armagh any morning from 7.45am onwards and it can be a nightmare. Traffic is backed up on the Friary Road, Killylea Road, Monaghan Road, Irish Street and Keady Road – I don't believe the scheme has improved traffic flow any, in fact I believe it has only added to the problem.
"Roads Service gave a commitment that they would review it when complete and when it had the opportunity to settle in for a while.
"I believe that time is now and have asked the Divisional Road Manager to have the scheme reviewed as a matter of urgency.
"Not only are people fed up and frustrated as they sit in traffic, but many are now actively avoiding Armagh and this cannot be good for our economy."

Read more news:
Work on Costa Coffee outlet at Spires Retail Park to start in January
Rail link petition with 10,000 signatures handed over at Stormont
Man and woman suffer smoke inhalation during Eglish shed blaze
Ultimate Strictly Come Dancing at Newry's Canal Court
Rail Disaster sculptor wins tender for Armagh's Brian Boru legacy work
Time running out for public to have say on dog 'ban' Orders
Council to make case for Armagh as HQ of single education body
Armagh's active role in highlighting quarry dangers to extend across Province
Increase car parking charges set to be introduced at Craigavon and Daisy Hill hospital
Closure of Armagh's Minor Injuries Unit 'will save no more than £50,000′
Courts
A Markethill man with a history of drink driving offences has been disqualified for...

A Co Down woman has been handed a four-week disqualification for what a judge...

A Lurgan woman has been disqualified from driving for 12 months after being spotted...
EVENTS CALENDAR
1
2
3
4
5
6
7
8
9
10
11
12
13
14
15
16
17
18
19
20
21
22
23
24
25
26
27
28
29
30
31
Entertainment News
Armagh will once again celebrate its storied past this November with its four-day Georgian...

An award-winning band will play a live intimate gig in Armagh this week. The...