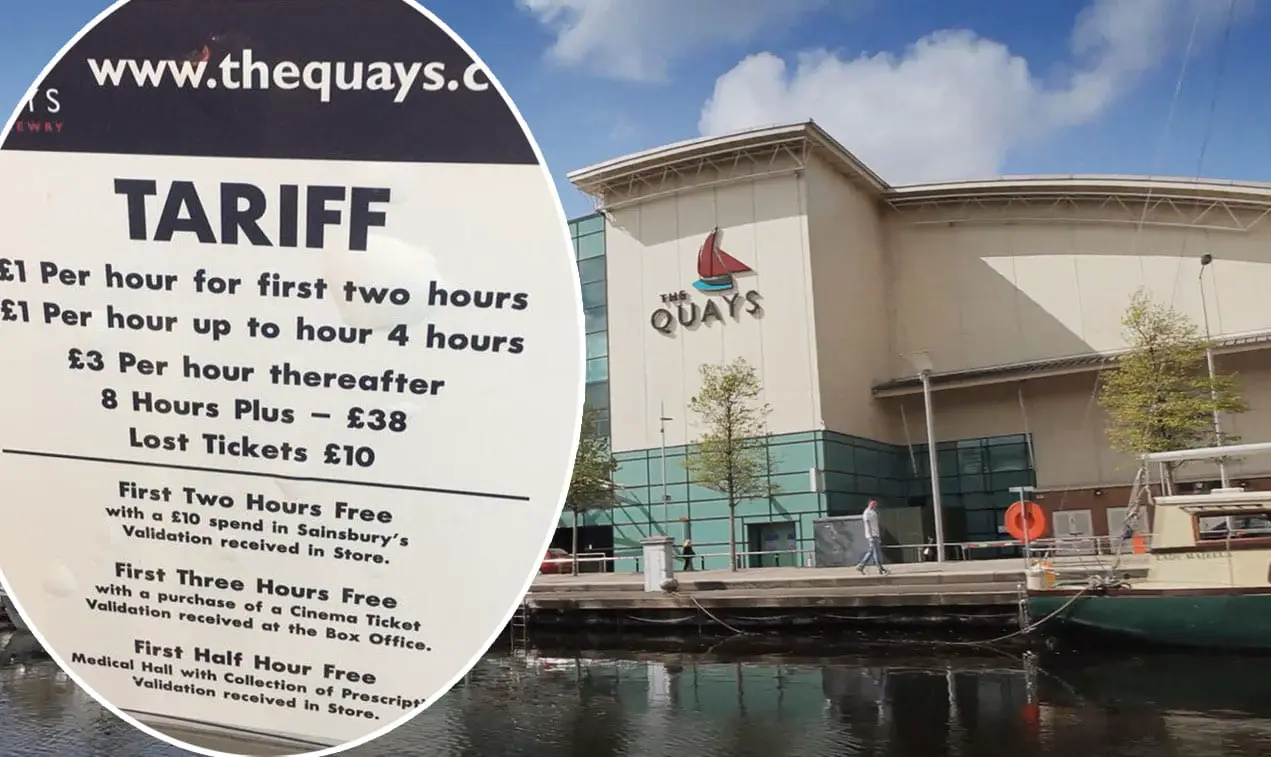 The Quays has defended itself against criticism over a fee structure which could see drivers forced to pay anything up to £38 to park!
The Newry-based shopping centre had come under fire on social media over the costs involved.
Charges cost £1 an hour up to four hours, then £3 an hour after that up to eight hours.
There are recessions for free parking for two hours by spending £10 in Sainsburys, three hours when buying an Omniplex ticket and half an hour free parking if collecting a prescription from the Medical Hall. All of these are validated in store by staff after presenting your ticket.
But anyone parking over eight hours will face a £38 charge for doing so.
Social media reaction has been frank and to the point. The charging structure has been widely shared on Facebook and people are quick to have their say, with one branding it "beyond excessive" and another saying "it's more like a parking fine than a parking charge".
Armagh I contacted The Quays to ask why there was such a sharp rise in charging for up to eight hours.
The Quays has responded and said it believes that "no genuine customer" would have to pay £38 and the top fee is there to discourage drivers from parking up and commuting elsewhere.
A spokesperson told us: "90% of our customers park for no more than two hours and 50% of those people actually pay no fee whatsoever, as they get their ticket validated when they spend £10 or more in Sainsbury's or they avail of validation in a number of other outlets which provide car parking discount to their customers.
"The £38 charge is to discourage those people who park all day in the car park and travel on to Belfast and Dublin, we would prefer to keep all our spaces for our customers.
"We are confident that no genuine customer is affected by this charge. We can see by our car park usage that the maximum time genuine customers spend in the car park would be 3 – 4 hours and we have had no complaints from anyone who has been shopping at The Quays."
Courts
A Markethill man with a history of drink driving offences has been disqualified for...

A Co Down woman has been handed a four-week disqualification for what a judge...

A Lurgan woman has been disqualified from driving for 12 months after being spotted...
EVENTS CALENDAR
1
2
3
4
5
6
7
8
9
10
11
12
13
14
15
16
17
18
19
20
21
22
23
24
25
26
27
28
29
30
31
Entertainment News
Armagh will once again celebrate its storied past this November with its four-day Georgian...

An award-winning band will play a live intimate gig in Armagh this week. The...