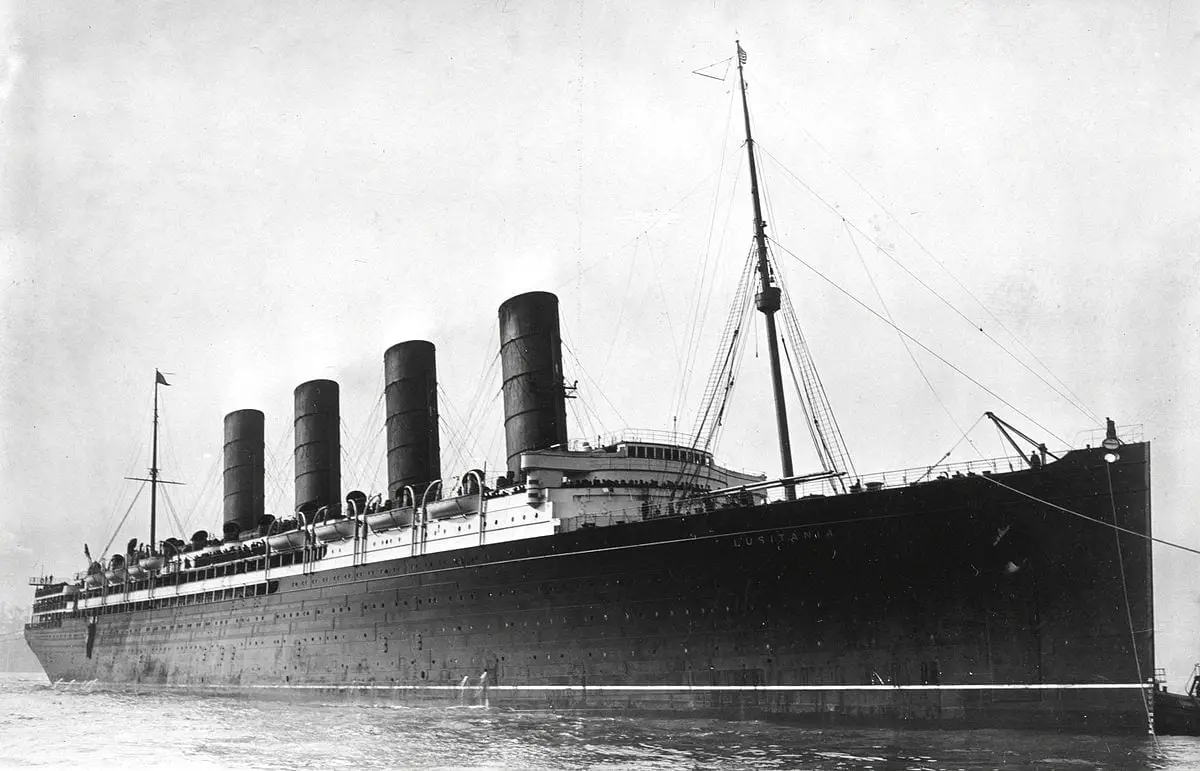 An artefact from the ill-fated RMS Lusitania – which forms the central feature of a Co Down landmark – could find a new home in Co Cork.
A davit from the liner, which sank on May 7, 1915, after being torpedoed by a German U-boat, is currently to be found in Annalong.
It sits at the centre of the Annalong Marine Park, after being given, it is claimed, as "a gift" to the former Newry and Mourne District Council.
But the man who handed over the davit, who lives in Kilkeel, has asked it be given back so it may be displayed at a new museum and visitor attraction at Kinsale in Co Cork.
It was off the coast of Kinsale that the Cunard liner went down, with the loss of 1,198 lives.
It was a definiting moment in the First World War and one which contributed directly to the United States' entry in WWI.
Uncertainty surrounds the exact timeline, but the davit, which would have been used to secure a lifeboat, was presented to council back in the 1970s or 80s.
Councillors in the Mournes have already indicated back in October 2016 that they would like to keep the davit where it is, insisting it was a gift.
But the man who gave it to council has insisted it was actually "on loan" and wants it back.
And, as he says he is in "declining years with health problems", he wants the council to acede to the request urgently so that he might see "my artefact returned to Kinsale".
The donor wrote to NMD Council chief executive Liam Hannaway back in August last year urging the matter be dealt with "promptly and a satisfactory conclusion can be reached".
The request will go to a meeting of the strategy policy and resources committee this coming week.
The man who handed it over explained in his correspondence that it was in 1965, while fishing in the vicinity of the wreck of the Lusitania, they snagged the davit in their net and took it on board.
He went on: "It was a number of years ago I gave the davit on loan to the old Newry and Mourne Council, who installed and erected it in the council amenities park area in Annalong. It was always with the thought that should such an opportunity present itself, to return the davit to its rightful place, that was what I would like to do.
"Now such an opportunity has arisen, an American Mr Gregg Bemis, owner of the wreck is currently financing and constructing a visitor centre and museum in Kinsale, dedicated to the memory of the great ship, and the 1200 unfortunate souls who perished.
"Whilst researching this seminal moment from the history of WWI, he discovered the existence of the davit and my ownership of it.
"He contacted me and asked would I consider donating said artefact to the museum, to which of course I readily agreed.
"As the davit is at present sited on council property, I feel it best that council should remove, and on its removal I will organise to have it picked up, and transported back to Kinsale where its home has always been."
Councillors, in correspondence going to the committee this week, have been told that the davit "as a gift belongs to council" so as a council it will be up to they to decide if they now wish to "gift it to the Lusitania Museum in Kinsdale".
The committee's recommendation, whatever way the thinking goes, will have to go then to full council to be ratified.
Courts
A Tandragee woman who is alleged to have acted as a prostitute before she...

A Lurgan man has been fined £350 after being caught with three bags of...

A Benburb man who was detected driving his grandmother's car whilst uninsured has been...
EVENTS CALENDAR
1
2
3
4
5
6
7
8
9
10
11
12
13
14
15
16
17
18
19
20
21
22
23
24
25
26
27
28
29
30
31
Entertainment News
The Georgian Festival is one of Armagh's blue ribbon events and part of that...

The Market Place Theatre in Armagh is set for a spooktacular week of thrilling...