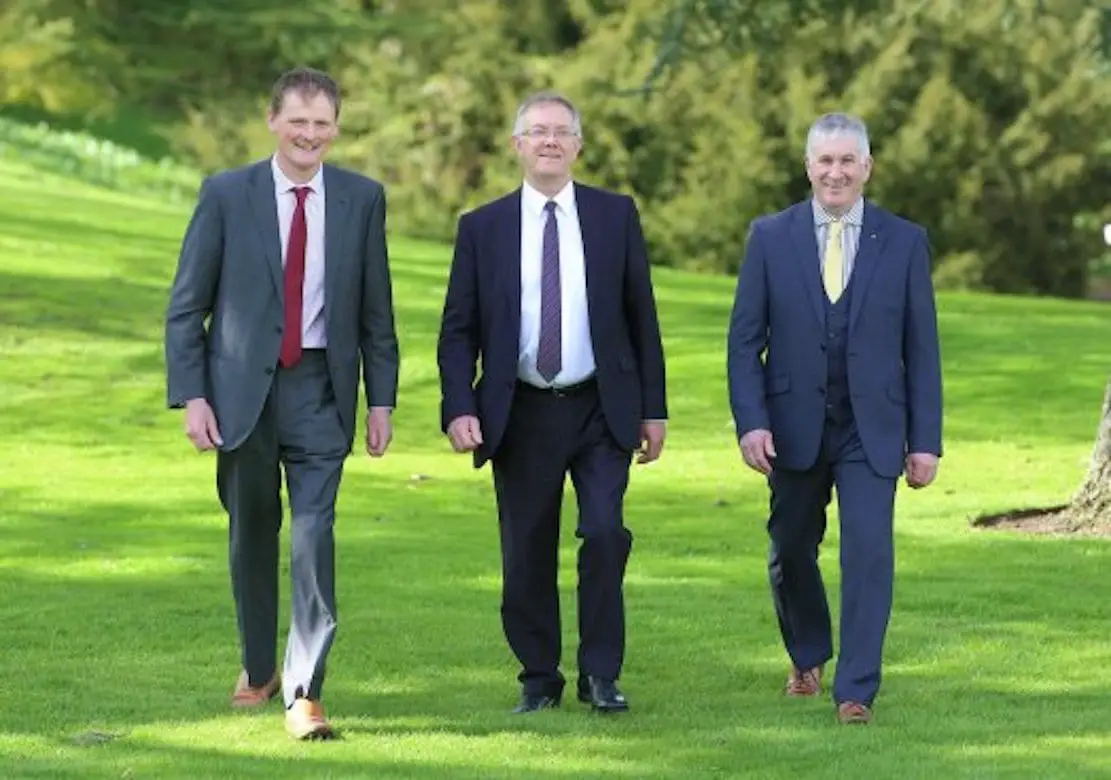 A Markethill man has been appointed the new President of the Ulster Farmers' Union.
Ivor Ferguson (centre), a sheep and arable farmer, will hold the post for two years after being elected at the UFU's annul general meeting.
Joining him in the new leadership team is County Antrim livestock farmer Victor Chestnutt, re-elected for a second term as Deputy President. The newly-elected Deputy President is David Brown, a cattle and sheep farmer from County Fermanagh.
Thanking the UFU council and members for their support, the new President acknowledged that there are plenty of challenges ahead with Brexitl he says establishing a new Agricultural Policy that will deliver for farmers will be one of the biggest challenges in over 40 years.
But Mr Ferguson says there are much bigger challenges closer to home, such as the Government's treatment of farmers, particularly around ammonia emissions.
He explained: "One of our main concerns with the Northern Ireland Environment Agency (NIEA) is that they have not consulted with farmers. Farmers who applied for Tier 2 Grants in good faith have spent upwards of £20,000 and are still waiting over one year later, held up by ammonia regulations.
"NIEA have changed the rules over the year at least twice with absolutely no consultation with farmers. We need to know who gave permission to change these rules and why. This treatment of farmers is not acceptable."
Another challenge facing farmers is ridding Northern Ireland of bovine TB.
Mr Ferguson added: "Farmers are frustrated at the lack of meaningful action on eradicating the disease."
Ivor Ferguson praised outgoing president, Barclay Bell for leading the UFU and the industry through one of the most challenging periods in Northern Ireland's agricultural history.
Outlining his priorities as taking over the reins, he continued: "The threat of imported cheap food is one issue farmers must stand together against as Brexit nears.
"We have a good relationship with our suppliers and more retailers are buying local. I want farmers to be trusted to deliver safe food, to improve profitability and the viability of our family farms and to pave the way for the young farmers coming behind us."
Looking ahead to the next two years Mr Ferguson says there is a lot of work to be done.
"We need to sell our farming story so that it is heard and acted upon," he said.
"I believe that we have a good story and a bright future. We have a big market on our doorstep. However, we need to be rewarded for our efforts."
Courts
A Markethill man with a history of drink driving offences has been disqualified for...

A Co Down woman has been handed a four-week disqualification for what a judge...

A Lurgan woman has been disqualified from driving for 12 months after being spotted...
EVENTS CALENDAR
1
2
3
4
5
6
7
8
9
10
11
12
13
14
15
16
17
18
19
20
21
22
23
24
25
26
27
28
29
30
31
Entertainment News
Armagh will once again celebrate its storied past this November with its four-day Georgian...

An award-winning band will play a live intimate gig in Armagh this week. The...