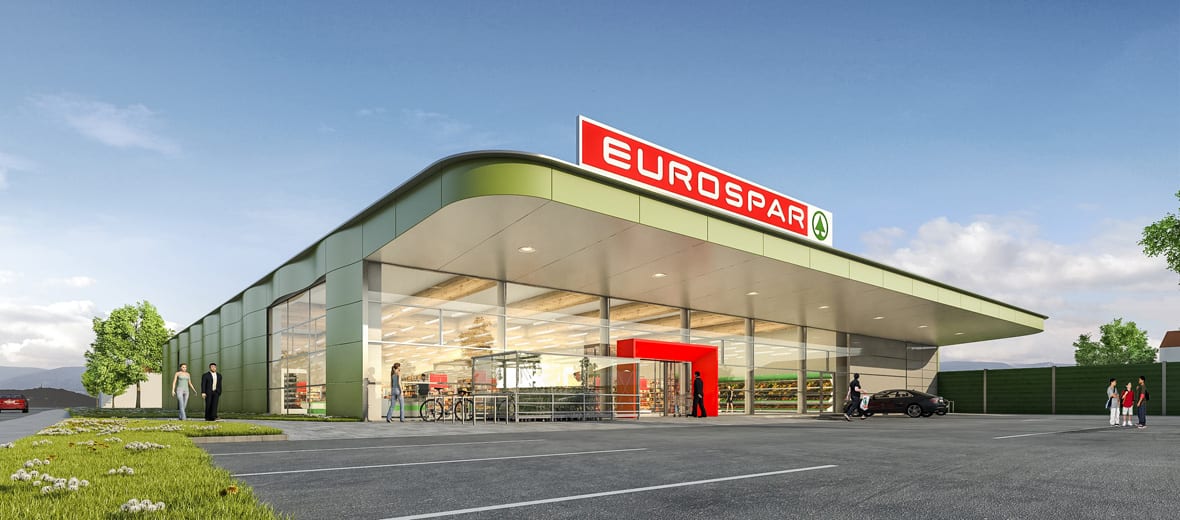 A major multi-million pound supermarket development is in the pipeline for Newtownhamilton, Armagh I can reveal.
The former Fane Valley Livestock Sales premises at the Common is to be totally redeveloped and brought back into productive use.
And the tenant will be Eurospar – with the Henderson Group having set its sights on the town as part of its latest expansion plans.
The supermarket, located beside the health centre, will also include a separate filling station.
It is a move which will bring 16 new jobs to the town.
The plans for the new development have been submitted to Newry, Mourne and Down District Council for consideration.
The ambitious proposals would include in excess of 70 car parking spaces at the site and would be seen by many as a welcome investment in Newtownhamilton.
The supermarket would be on a par with other such outlets, boasting in excess of 7000 sq ft of retail space.
The development would also incorporate an in-store butchery and deli, as well as newsagents and fresh flowers, home-made ice cream and coffee area.
And the town – which in recent times lost its local bank – will benefit from the provision of an additional ATM cash facility.
The plan relates to the full site at The Common formerly used for the fortnightly Fane Valley Livestock Sales.
It was at the end of May 2013 that the operation of the mart in Newtownhamilton was taken on by Markethill Livestock Sales, before being consolidated into the new Markethill Livestock Sales premises when it opened for business in August 2013.
The Henderson Group, which has brought forward the Newtownhamilton plans, is behind the Spar, Eurospar, Vivo, VivoXtra and Vivo Essentials brand names.
Earlier this month, the group announced a £25 million investment to cover the purchase of new land and the construction of a new distribution centre, trailer park and head office facility to replace the original structures that have been in place since 1974.
That investment was set to facilitate business growth and secure employment across all of its companies.
The Henderson Group – based in Mallusk – currently has an 2800 strong workforce which has doubled in the last 10 years.
The new main office facility is expected to be fully operational in October 2016.
As well as the main office refurbishment, £1.1 million has already been invested in the construction of a new, state-of-the-art trailer park which houses Henderson Wholesale's 92 strong distribution fleet.
Brothers Martin and Geoffrey Agnew, Managing Directors of the Henderson Group, are confident the new developments and expansions will serve the group well for the future.
Martin commented: "We make no secret that our profits are reinvested into the business. This major investment in the development of a new main office and distribution site shows our commitment to providing a better working environment for our employees, as well as a more efficient way of working to benefit our retailers and logistics department.
"We are confident this growth will bring future employment opportunities across all departments and companies that make up the Henderson Group."
Read more news:
Poyntzpass families' homes under water as emergency payments activated
Man arrested after Boxing Night burglary at Armagh Cricket Club
This new parking system at Spires retail park in Armagh really takes the biscotti!
Storm Frank: Travel, flooding and powers cuts and some useful telephone numbers…
Cruel thieves swoop to steal child's playhouse from back garden
Courts
An Armagh woman who kicked out at ambulance staff and assaulted a police officer...

A man was driven from Lurgan to Newtownabbey by a female friend and his...

A Bulgarian national has been banned from driving for six months after being caught...