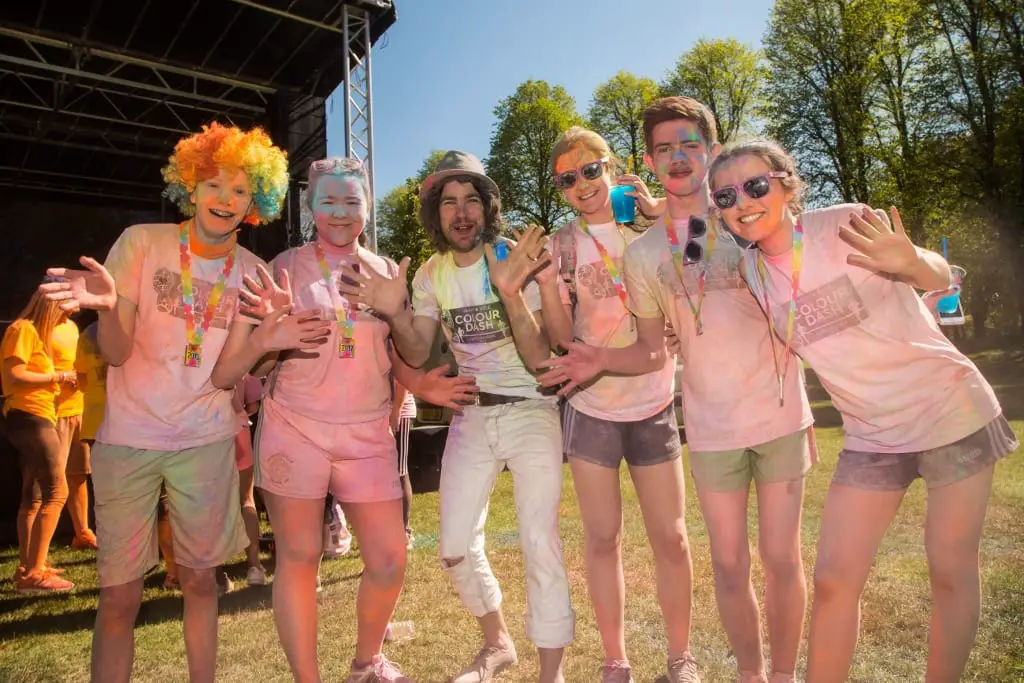 Up to 1,000 runners and walkers of all ages and abilities took part in this year's Heart & Sole Colour Dash in Lurgan Park.
The park was filled with a rainbow of colour as the 'dashers', some donning psychedelic costumes, enjoyed the high energy, fun filled party atmosphere on Sunday afternoon.
The hugely popular event was organised by Armagh City, Banbridge and Craigavon Borough Council with support from local businesses Intersport, The Classic Mineral Water Co Ltd and New Haven as well as the Public Health Agency, McKeagneys Pharmacy, Menarys/Tempest, Roskyle Construction, Lurgan Veterinary Clinic and Tesco.
All proceeds from the colour dash will go to the Motor Neurone Disease Association Northern Ireland and British Heart Foundation Northern Ireland.
Simon, Lisa, Jorgie and Ava Patton
Lord Mayor Cllr Gareth Keating, Kieran McAlinden, Aodhran McCann, Aidan McAlinden
Calum McShane, Mike Flack, Max Boyce, Nathan Thornton, Robbie Weir,
Noeleen Gorman, Roisin Haughian,
Ben Best, Emma Sloan, Zoe Sloan, Johnny Sloan, Jodie Best, Penny Best, Eve Sloan,
Alan Waddell, Ruth Waddell, Evan Waddell, Emily Waddell,
Joey Topley, Ruby Jameson,
Nigel Armstrong, Sam Armastrong, Diane Armstrong,
John Brown, Alisha Brown, Zoe (Dog)
Sue Small, Enzo (Dog), Natalie Small, Ollie Small, Micheal Lauder, Jimmy Lauder, Orla Lauder,
Ella Briggs, Ashley Briggs,
Andrew Mackle, Catherine Mackle, Daniel Mackle, Rosie Mackle,
Beaia Osinska, Zuzanna Osinska, Julia Osinska, Oliwia Osinska, Stepfan Osinski,
Eimear Tallon, Padraig Quinn, Aoife Reid, Feidhlim Duffy, Brodie McClelland,
Anne Pearson, Holly Osborne, Zoe Pearson, Ben Pearson,
Anne Jameson, Ruby Jameson,
Elaine McElroy, Cait Lemmon, Joan Fitzpatrick,
Ian McCue, Sarah McCue, Sophie McCue, Laura McCue – Laura was celebrating her 2nd Birthday.
Courts
A man who took all his medication at once has been handed a 15-month...

A Portadown man who stole a £500 phone from a shopping centre has been...

A Portadown man who assaulted the mother of his child after an "argument that...
EVENTS CALENDAR
-
-
-
-
-
1
2
3
4
5
6
7
8
9
10
11
12
13
14
15
16
17
18
19
20
21
22
23
24
25
26
27
28
29
30
Entertainment News
As the darker nights draw in, The Market Place Theatre in Armagh is staging...

A darkly comical and deeply moving new play, 'Cracks', takes to the stage at...