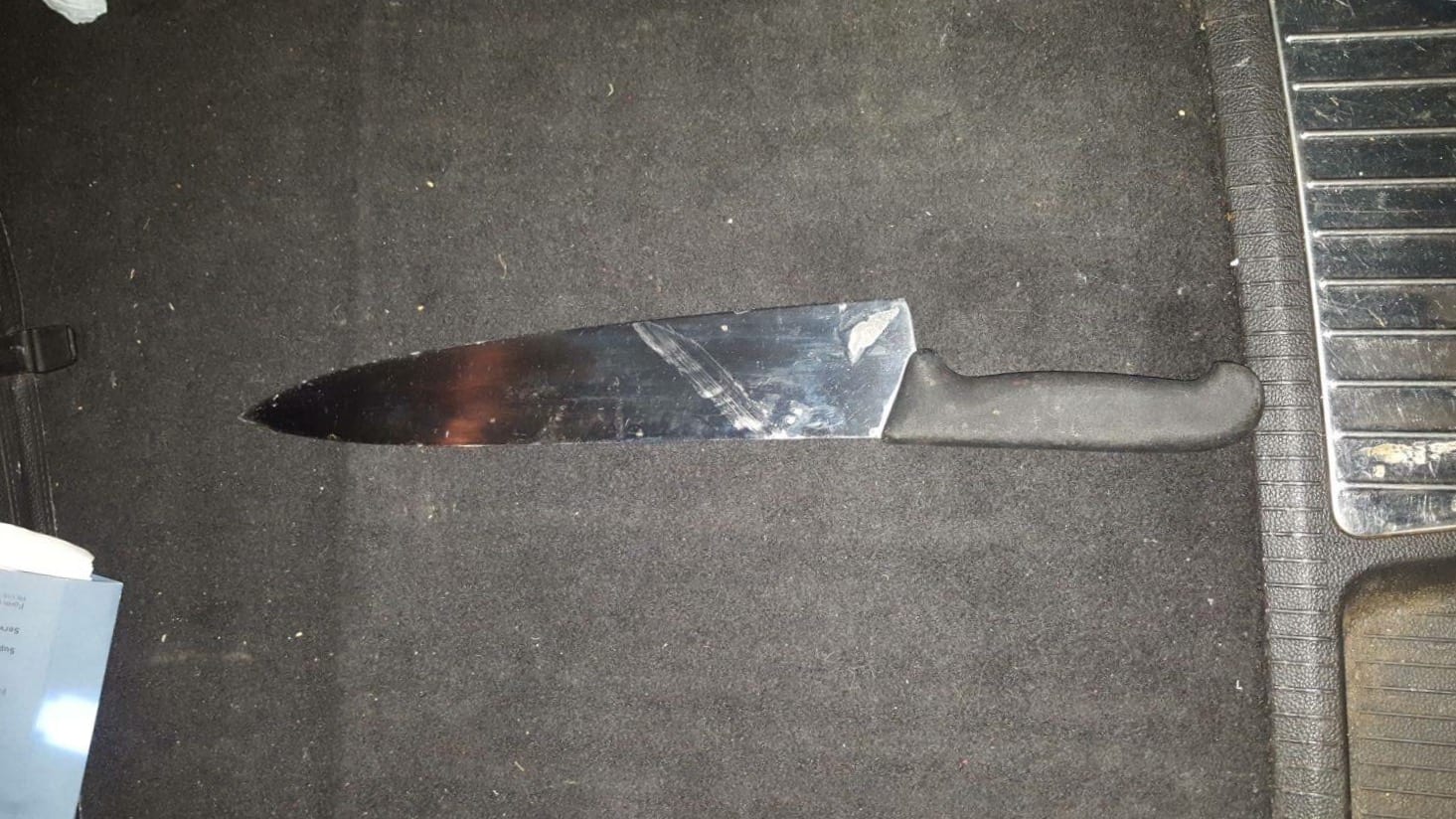 An experienced police officer came close to firing his gun for the first time after coming across a man carrying a knife in County Armagh last night (Friday).
"It's the closest I've ever come to pulling the trigger," were the words of that officer.
This was that knife (pictured).
PSNI in Craigavon explained the situation: "This wasn't some over excitable newbie; this was one of the most experienced officers in Lurgan station.
"We'd been called to a domestic and on arrival, the suspect came at our officers brandishing this.
"It is experience and training that makes the difference here, and means that these life or death decisions end with life, and in this case- custody.
"The male was arrested for GBH with intent, two counts of common assault, criminal damage, possession of an offensive weapon and a breach of bail.
"You've actually seen this officer before- last year a photo of his scrabbed eye and face featured after a female didn't take too kindly to being arrested.
"He's not new to people cutting up rough, but this was that step closer to forcing our hand.
"If I know him, he will have got on with his job and, when the guy sensibly decided to drop the knife, got him down, got him in cuffs, got him in the car, and then made some jokey comment to lighten the mood and put a smile on the nervous faces of the probationers there.
"Later on though, when the adrenaline was wearing off and he was talking to me, the reality of it was beginning to set in.
"That's when your thoughts take over. It only takes a second for him to pick up that knife, but the consequences are with both of us for life. It takes a split second to pull a trigger, but his family then lose him for life, and I have to justify it for the rest of my career.
"This is the reality of knife crime. Far too often recently we have seen people arm themselves and come onto the streets, challenge us, or attack their own families.
"When you do that, you're putting yourself at massive risk, those around you at massive risk, and starting a decision making process that can live with others for the rest of their lives.
"When you bring a knife like this out, do not expect to be met toe to toe with similar weapons. Knives kill, and we won't risk innocent lives by playing games.
"If you're fortunate enough to be near our ARV colleagues, you may be looking at a Tazer. If you force our hand, you'll be looking down the barrel of a gun.
"Parents, get this message across to kids. This isn't a game. You can't restart, respawn, or walk away unscathed from a knife fight.
"You are statistically more likely to become a VICTIM of knife crime if you carry one yourself. When we're called to deal with it, we won't mess about."
Courts
A Craigavon man who assaulted two others in an unprovoked attack after a night...

A Keady man has been fined £300 after police noted a series of defects...

A Polish woman has been banned from seeing her grandson for three years after...
EVENTS CALENDAR
1
2
3
4
5
6
7
8
9
10
11
12
13
14
15
16
17
18
19
20
21
22
23
24
25
26
27
28
29
30
31
Entertainment News
An award-winning band will play a live intimate gig in Armagh this week. The...

The Market Place Theatre in Armagh is set for a stellar week of stunning...