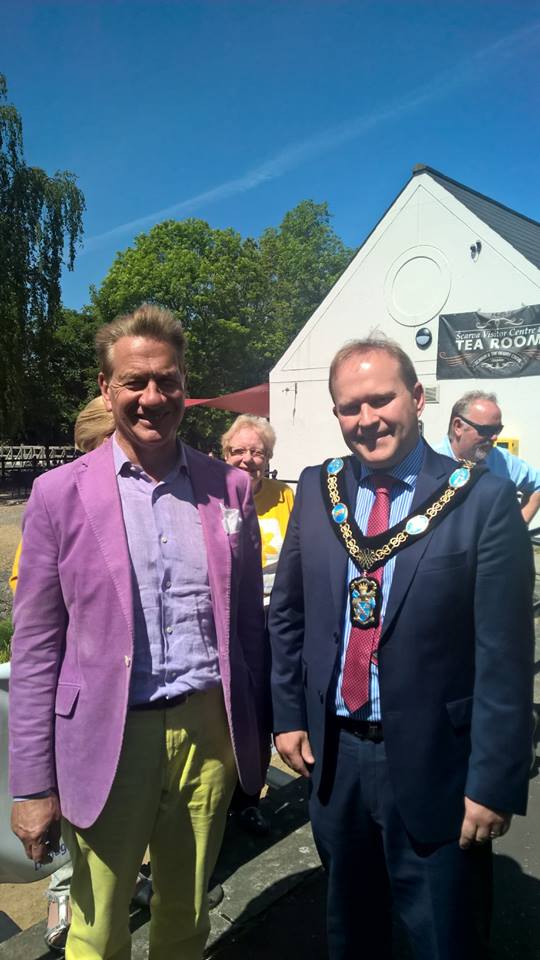 Former Conservative MP turned broadcaster Michael Portillo made a surprise visit to the borough today (Tuesday).
The veteran politician and journalist was in Scarva as part of his latest television series.
Mr Portillo – one time Deputy Leader of the Consevative Party – is working on a series on the linen industry.
And where better to visit than Co Armagh, where the roots run for the linen industry and which put food on the table for many families over many generations.
The borough is dotted with mills, which provided a source of employment down through the years, where flax was spun into linen.
Portadown and Lurgan were key centres in the linen industry, and there is a proud past across the borough, including Tandragee and Laurelvale, and in south Armagh, with mills at both Keady and Darkley built by William Kirk; local people erected the Keady Monument in honour of Kirk, who helped bring economic posterity to the area.
Lord Mayor Gareth Wilson happened to be in Scarva and met Mr Portillo by sheer coincidence.
Alderman Wilson was in the picturesque village to lend his help to fundraising plans for Marie Curie.
And who should happen by but the dapper TV broadcaster.
Delighted to get a snap with Mr Portillo, turned out in lavender blazer, the Lord Mayor quipped afterwards: "I need to jazz up the jackets!"

The 64-year-old's TV credits include mainly travel shows and historical documentaries, such as Great British Railway Journeys, Great American Railroad Journeys and most recently Portillo's Hidden History of Britain.
Courts
A strong man competitor found with a 5,000-volt stun gun in the back of...

A woman has been cleared of careless driving with a judge saying: "I cannot...

A Lurgan man who damaged a woman's front door over what his defence counsel...
EVENTS CALENDAR
-
-
-
-
-
1
2
3
4
5
6
7
8
9
10
11
12
13
14
15
16
17
18
19
20
21
22
23
24
25
26
27
28
29
30
Entertainment News
A darkly comical and deeply moving new play, 'Cracks', takes to the stage at...

Dead funny comedy awaits theatregoers at Armagh's Market Place Theatre on Wednesday, September 19...