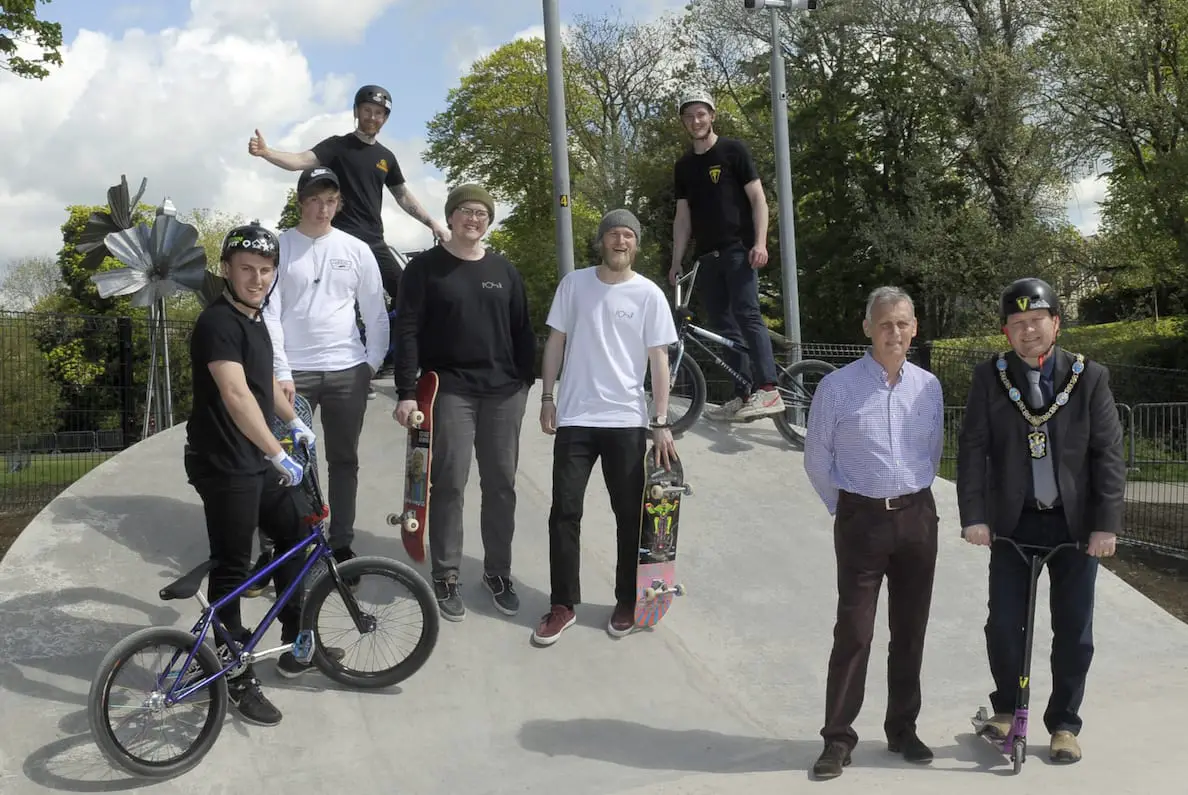 A new £250,000 state-of-the-art public skatepark officially opened in Banbridge over the weekend.
The facility in Solitude Park is one of only three such outdoor skate parks in Northern Ireland.
Under the expert guidance of urban sports coaching facilitators Thunder Action Sports, a host of young entusiasts took to the ramps and enjoyed the trills and spills of Expression sessions in the new facility and got hands on with BMX, Skateboarding, Scootering & Parkour taster sessions in the adjoining amphitheatre.
Speaking at the opening Lord Mayor, Alderman Gareth Wilson said: "I am delighted to officially open this superb Urban Sports Facility. The highly anticipated project has been quite a while in the pipeline but I'm sure everyone will agree it has been well worth the wait.
"As a council, it is essential we encourage young people to engage in active, healthy lifestyles and this amazing addition to Solitude Park will certainly appeal to the growing number of young people who have embraced the urban sports culture.
"As well as enhancing health provision this new facility will provide a welcome community gathering space, promoting social interaction that will benefit the young people of the borough for many years to come."
Performance Manager & Activity Director of Thunder Action Sports, Matt Gillespie said: "This is a great day for urban sports fans, well designed facilities such as this are few and far between and the launch today will be a huge boost for urban sports in the borough.
"As well as appealing to established enthusiasts Banbridge now has an amazing community resource for attracting new comers and the traditionally non-sporty into an exciting new realm of physical activity."
Jason Taylor from urban sports group Precission NI, who provided valuable input and support for the project added: "We are very pleased with how the skatepark has turned out; especially the impact it will have with younger users now having access to such a facility.
"We would like to thank everyone involved with the park from it's inception and in particular the council's Sports Development Officer, Gillian Dewart who we worked with over the years to see the project through."
DUP MLA Carla Lockhart, who turned out for the opening, welcomed the long awaited skatepark.
"The park has been in the making for some time and constituents had been getting restless as to its expected completion date," said Ms Lockhart.
"The park is one of the largest in Northern Ireland and there is a huge demand for it around Banbridge.
"This is a great facility and it is right that there are facilities for young people to channel their energies in a constructive manner."
She added: "I am delighted that this park is now open. Judging by the use it has had already I can see that it has been a worthwhile venture and I congratulate all those who participated in making this happen.
"I had many representations from local people on this park and know how welcome it is. I would commend my council colleagues Paul Greenfield and Junior McCrum for their efforts in this regard.
"Together we have lobbied hard to bring this to fruition."
Courts
A Markethill man with a history of drink driving offences has been disqualified for...

A Co Down woman has been handed a four-week disqualification for what a judge...

A Lurgan woman has been disqualified from driving for 12 months after being spotted...
EVENTS CALENDAR
1
2
3
4
5
6
7
8
9
10
11
12
13
14
15
16
17
18
19
20
21
22
23
24
25
26
27
28
29
30
31
Entertainment News
Armagh will once again celebrate its storied past this November with its four-day Georgian...

An award-winning band will play a live intimate gig in Armagh this week. The...