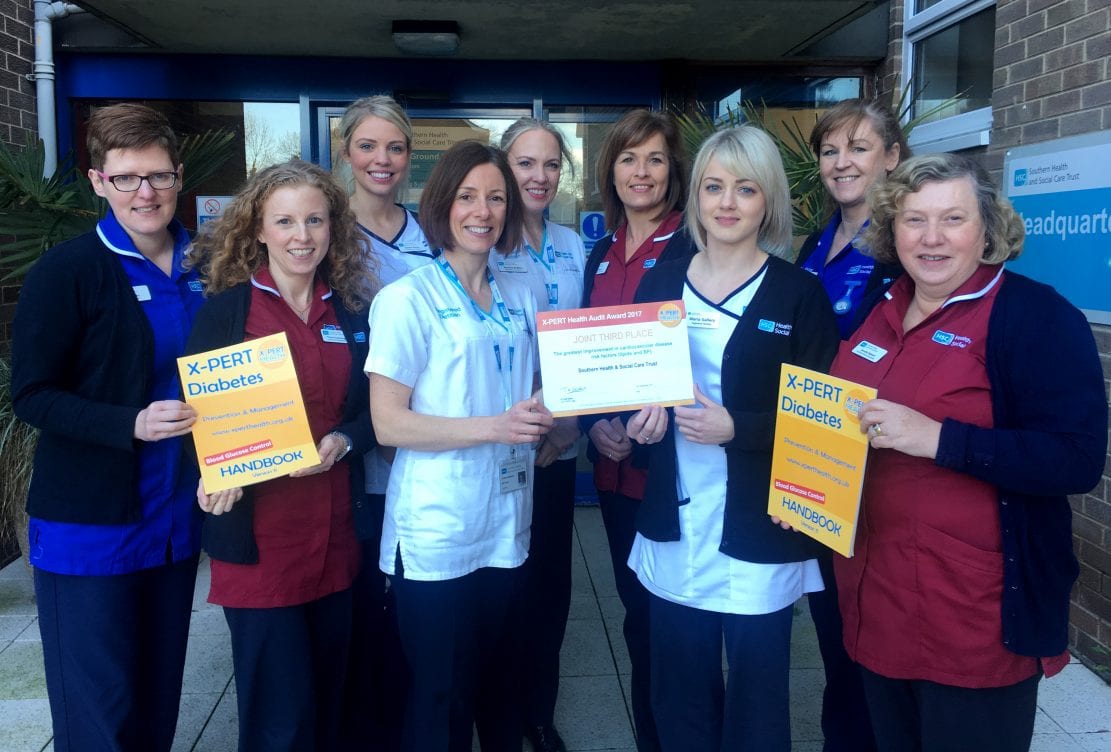 The Southern Health Trust's Community Diabetes Team has been recognised as one of the best in the UK for helping to boost the health of their patients.
The team came third in the UK for helping patients reduce the cardiovascular risks of diabetes by managing their lipids and blood pressure.
The awards – organised by the charity, X-PERT Health – recognise the best performing of the 90 centres across the UK which deliver its group-based education programmes to help patients manage their diabetes.
In the Southern area there are around 16,000 patients with diabetes including children and adults.
Congratulating the team on their success, Trust Acting Director of Older People and Primary Care Services, Melanie McClements said: "Diabetes is one of the most challenging chronic conditions facing our population.
"People with diabetes are at risk of significant health problems like renal disease, sight problems or cardiovascular disease. Around one in six hospital admissions are due to the consequences of diabetes, these patients are more likely to develop complications and have a longer length of stay.
"Because it is a long term condition, we want to ensure that our patients can live as independently and healthily as possible.
"Thanks to the commitment of our staff and programmes like X-PERT Health, we can now support our patients to self-manage their diabetes at home and minimise the risk of developing those more serious, life threatening conditions.
"I would like to pay tribute to our specialist team of nurses and dietetics staff who are very clearly doing a great job in encouraging their patients to make good lifestyle choices which are having such a positive influence on their health and overall quality of life."
For more information about X-PERT Health, visit www.xperthealth.org.uk
For more information on Southern Trust Diabetes Services http://www.southerntrust.hscni.net/services/1701.htm
Courts
A Lurgan man who apologised in court after being caught with cannabis has been...

A Craigavon man who assaulted his now ex-partner twice in quick succession has been...

A Portadown man has been given six months to show a judge he has...
EVENTS CALENDAR
1
2
3
4
5
6
7
8
9
10
11
12
13
14
15
16
17
18
19
20
21
22
23
24
25
26
27
28
29
30
31
Entertainment News
Rising band The Sherlocks wowed a packed house with an intimate gig in Armagh...

Armagh will once again celebrate its storied past this November with its four-day Georgian...