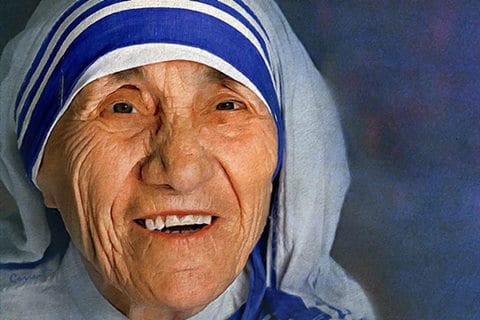 The Relic of St Teresa of Calcutta will visit Armagh next month.
The relic was venerated following Mother Teresa's canonisation in September last year – 19 years after her death.
The visit will take place on Thursday, June 8 at St Patrick's Cathedral in the city.
St Teresa was born in Skopje (now the Republic of Macedonia). After living in Macedonia for eighteen years, she moved to Ireland and then to India, where she lived for most of her life.
In 1950, she founded the Missionaries of Charity, a religious congregation which had over 4,500 sisters and are active in 133 countries.
The congregation manages homes for people dying of HIV/Aids, leprosy and tuberculosis, soup kitchens, dispensaries and mobile clinics, children's and family counselling programmes, orphanages and schools.
Members of the congregation take vows of chastity, poverty and obedience also profess a fourth vow, to give "wholeheartedly free service to the poorest of the poor".
During her life, St Teresa of Calcutta received a number of honours. She was canonised (recognised by the Church as a saint) on 4 September 2016 and the anniversary of her death (5 September) is her feast day.
She's revered for her work with the poor in India and Pope Francis said: "She defended the unborn, the sick and abandoned and had shamed world leaders for the crimes of poverty they themselves created."
Two apparent cures of sick people after her death in 1997 have been attributed to her intercession.
On the day of her Canonisation, Pope Francis said: "St Teresa of Calcutta had spent her whole life bowing down before those who were spent, left to die on the side of the road, seeing in them their God given dignity."
Thursday 8 June
7.20pm Arrival and Procession with the Relic
7.30pm Evening Mass
10.00pm Night Prayer
(Cathedral closes at 10.30pm)
Friday 9 June
8.00am Morning Mass
10.00am Morning Mass
12.00noon Midday Prayer
3.00pm Rosary
6.00pm Evening Prayer
7.30pm Evening Mass
10.00pm Night Prayer
(Cathedral closes at 10.30pm)
Saturday 10 June
10.00am Morning Mass
12.00noon Midday Prayer
1.00pm Relic departs from St Patrick's Cathedral
Confessions will be heard on the mornings of Friday 9 and Saturday 10 June from 9.30am – 9.55am and from 10.30am – 12noon and on the Friday afternoon from 4pm – 6pm.
Courts
A man accused of aiding in the murder of prison officer David Black has...

A man who whose DNA linked him to a burglary in Middletown will be...

A Lurgan man charged with intimidation and threats to kill has had a bail...
What's On
Armagh woman Grainne O'Neill will be hosting an event 'Recharge You' at the Canal...

Come along to Northern Ireland Opera's 'Imagine!', at Armagh's Market Place Theatre on Saturday,...