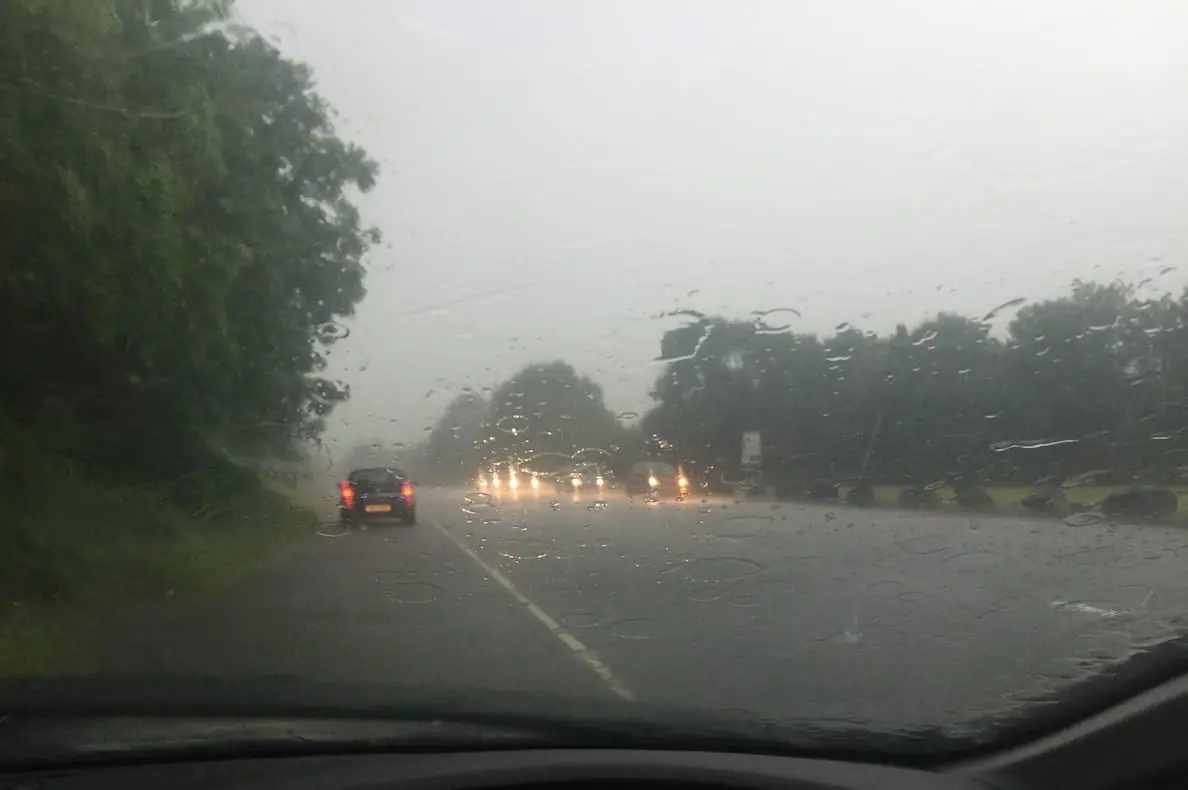 Commuters were forced to temporarily abandon their journeys on the roadside as the heavy rain left it almost impossible to drive earlier this evening.
One motorist, who did not want to be named, sent us this image of several cars effectively parked up on the main Armagh to Keady Road shortly after 5pm, waiting for the torrential downpour to subside.
The driver said there was at least 15 cars parked up on the hard shoulder as the skies opened and sought its revenge for the glorious weather experience over the last week or two.
The driver said her normal 10-15 minute journey into Keady took 45 minutes because of the conditions; not only the downpour, but surface water on the road.
The Met Office has issued a yellow weather warning for Northern Ireland with heavy rain expected on Saturday.
The warning will be in place between 12pm and 9pm.
Spray and sudden flooding could lead to difficult driving conditions and some road closures – as seen on the outskirts of Armagh this evening.
A Met Office spokesperson said: "Many areas will remain dry on Saturday. However, where heavy showers do break out there is potential for 20 mm rain to fall in less than an hour with 30-50 mm possible in three hours."
"Hail may present an added hazard. The risk looks greatest across Northern Ireland first, from around midday, then extends eastwards across Scotland during Saturday afternoon, before showers and thunderstorms die out during the evening."
Courts
A strong man competitor found with a 5,000-volt stun gun in the back of...

A woman has been cleared of careless driving with a judge saying: "I cannot...

A Lurgan man who damaged a woman's front door over what his defence counsel...
EVENTS CALENDAR
-
-
-
-
-
1
2
3
4
5
6
7
8
9
10
11
12
13
14
15
16
17
18
19
20
21
22
23
24
25
26
27
28
29
30
Entertainment News
A darkly comical and deeply moving new play, 'Cracks', takes to the stage at...

Dead funny comedy awaits theatregoers at Armagh's Market Place Theatre on Wednesday, September 19...