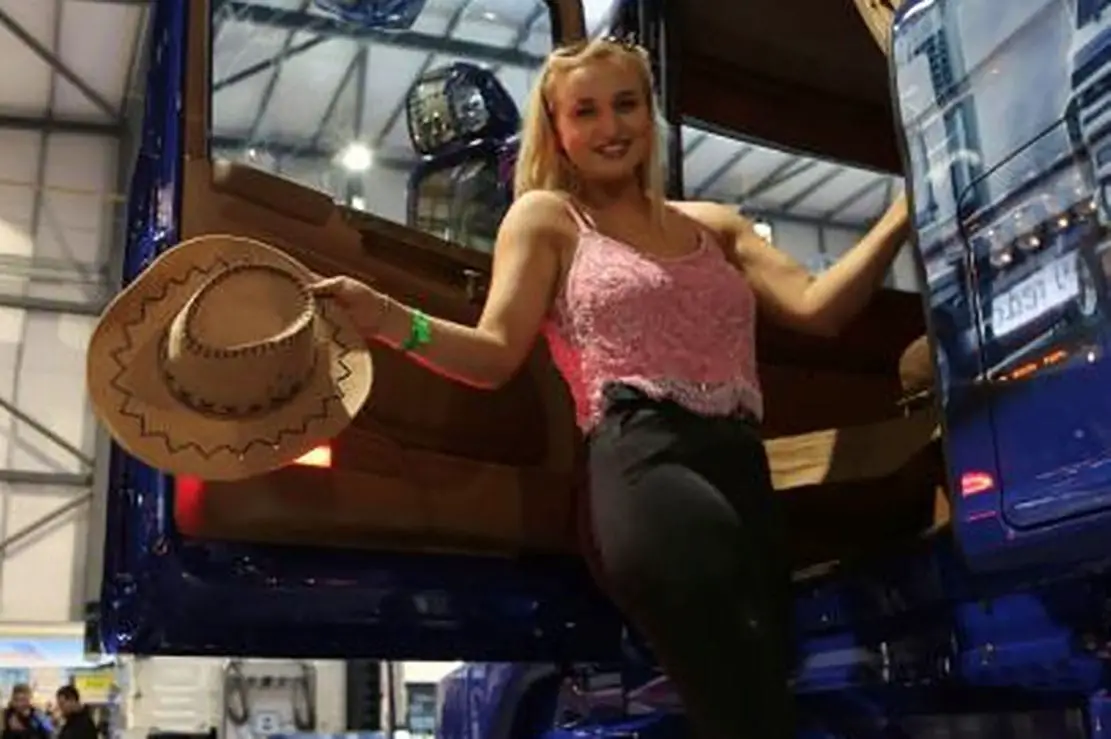 A 21-year-old Armagh girl is turning heads as she rules the roost in her customised €200,000 Scania lorry at competitions across Europe.
Martina McNally stars in the latest series of 'Stetsons and Stilettos', which airs on RTE One later on Sunday.
The Armagh driver delivers trucks all over Europe on her day job and says her presence behind the wheel of a monster truck – aptly christened Bully – definitely turns a few heads.
"You meet people and their brake lights are on saying 'Look at that girl driving a truck!' and children are pointing. It's still a rare thing to see a female trucker."
"Bully is my pride and joy. It's my Scania, bull-nosed truck which I take to all shows all around Ireland, UK, Europe. It's 730 horse power.
"It would be like a Ferrari or a Lamborghini. It's nearly triple the price of a normal lorry. It's all brown leather and there is mood lighting in it that changes colour.
"In Ireland and England, it's one of the top ten. Wherever there is a show on, I'll take her to."
The €200,000 Bully is the flagship vehicle in her family's trucking business, A & M Commercials.
She added: "There are lots of girls texting me saying they want to get their lorry test. I would encourage them 100% to go for it. It's a confidence thing.
"When I go into the truckers' line in the about they ask me if I'm lost you have to show your ticket to prove you are a trucker. You do still get it because it's so rare to see girls driving lorries."
However, making a mistake is part of parcel of any job but Martina feels that the fact she's one of the rare female drivers in the country, her mistakes are judged on her gender.
"If you do something wrong it's not because you're learning it's because you're a girl. It's the only thing I don't like about it," she said.
"People are looking at you thinking, 'it's a man's job' but it's not anymore."
"When I was growing up in school the picture on the screen in my phone would have been a truck and now you see girls wearing Scania and have pictures of trucks in their screen saver.
"The tables have totally turned in the trucking industry.
"The age went down from 21 to 18 to drive trucks which is encouraging more young people to drive. And, lorry drivers earn brilliant wages."
Stetsons and Stilettos will be shown on RTE One at 3.30pm.
Courts
A man accused of disorderly behaviour in an Armagh hotel before exposing his genitals...

A Dromore man who claims he takes cannabis to assist with illness has been...

A man facing double murder charges has admitted to killing an elderly couple in...
What's On
The Market Place Theatre in Armagh is the place to be this summer as...

Armagh Craft Fair returns for the eighth year to the wonderful surroundings of The...